Seamus Heaney, Liam O'flynn
<![if !supportEmptyParas]> <![endif]>
The Poet And The Piper
<![if !supportEmptyParas]> <![endif]>
Claddagh CCT21CD; 58 minutes; 2003
<![if !supportEmptyParas]> <![endif]>
The simplest ideas are often the most effective and so it goes with this wondrous combination of Nobel Prize-winning poet Seamus Heaney and Ireland's most renowned uilleann piper Liam O'Flynn. No modern poet has been more capable of evoking and exploring the resonance of time and place than Heaney and here he proves just how effective and expressive he is as a reader of his own verse too. In turn, O'Flynn has previously demonstrated his remarkable abilities as a musical interpreter on works such as Shaun Davey's The Brendan Voyage and his own solo albums like The Piper's Call. <![if !vml]>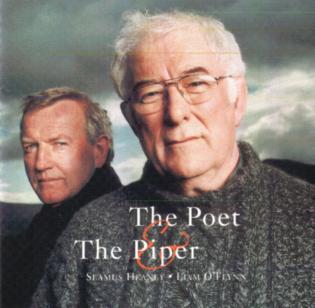 <![endif]>
<![if !supportEmptyParas]> <![endif]>
The opening track announces their mutual presences as Heaney reads The Given Note concerning the composition of a new tune on the Blasket Islands which gradually segues into O'Flynn's rendition of an air once popular on that long-deserted outpost, Port na bPúcái. The remainder sees a marked definition between the duo, Heaney reciting one or a couple of poems, then O'Flynn providing a musical interlude which complements the verses and simultaneously acts as a mode of clearance for the poet to begin again. Only once is there a smack of artifice when Heaney's work The Yellow Bittern is followed by the tune of the same name (Irish tune titles are almost entirely labelling devices not denotations).
<![if !supportEmptyParas]> <![endif]>
However, despite its enduring impact and the overall warmth of its production, the participants in this album (who also include Stephen Cooney on guitar and Rod McVey on harmonium) are ill served by the atrociously designed liner. Ciaran Carson's own evocative essay is marred by numerous typographical errors and its effectiveness emasculated by the use of a white font against inappropriate background colours – but don't let that deter you from buying the album!
<![if !supportEmptyParas]> <![endif]>
---
<![if !supportEmptyParas]> <![endif]>
This review by Geoff Wallis first appeared in fRoots magazine – www.frootsmag.com.
For more information about Claddagh Records – www.claddaghrecords.com.
---
<![if !supportEmptyParas]> <![endif]>
<![if !supportEmptyParas]> <![endif]>
<![if !supportEmptyParas]> <![endif]>
<![if !supportEmptyParas]> <![endif]>