Síol/Seed
<![if !supportEmptyParas]> <![endif]>
Magherabawn Records OPPCD 2; 50 minutes; undated (2001?)
<![if !supportEmptyParas]> <![endif]>
As compilations go, Síol is something of an oddity. The brainchild of Anita and Tommy Hayes, the album was compiled to provide financial support for the Irish Seed Savers Association (ISSA) and carries the subtitle "Artists Supporting Freedom of Biodiversity", those artists donating their services and, in a few cases, previous recordings to the project.   For those unfamiliar with the aims of the ISSA, the liner provides this neat definition:
<![if !supportEmptyParas]> <![endif]>
<![if !vml]>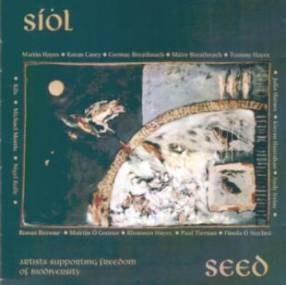 <![endif]>The joy of making a connection with the past is continually reinforced in our work at the Irish Seed Savers Association. We meet people, hearing old stories, in our efforts to collect and preserve native Irish apple trees, old varieties of vegetable seed, fruit, grain and potatoes. Once collected these old varieties are grown on and redistributed among our members who play a vital role in keeping them alive and circulating. A living link to the past and a prayer for the future.
<![if !supportEmptyParas]> <![endif]>
The parallels with traditional music should be obvious and this album provides ample reinforcement.
<![if !supportEmptyParas]> <![endif]>
Compilations are often rightly accused or rounding up "the usual suspects", but, while leaning heavily towards well-known musicians with Clare or Galway connections, the fact several of the contributors have chosen to make new recordings should entice your interest.
<![if !supportEmptyParas]> <![endif]>
These include Martin Hayes, whose opening tune The Brown Coffin features appropriately sparse bodhrán from Tommy Hayes, and Karan Casey who provides a stark unaccompanied rendition of Ian Campbell's The Sun is Burning. Ronan Browne provides his own multi-tracked soundscape, blending flutes, pipes and keyboards on Critical Mass and there's another multi-instrumental offering from Paul Tiernan who offers his theme tune to RTÉ Nationwide's weekly environmental slot. Rhonwen Hayes (surely some relation?) renders the splendid song Is Tú Mo Ghrá, a surprisingly sensitive song from the pen of Kíla's Colm Ó Snodaigh which features a nowadays all to rare recorded outing for the uilleann piper Máire Ní Ghráda (albeit of the very much in the background droning type).
<![if !supportEmptyParas]> <![endif]>
Previously recorded tracks have been donated by Cormac Breathnach, Máire Breatnach, Kieran Hanrahan, Andy Irvine, Máirtín O'Connor, Finola Ó Siochrú and Kíla, but this should be of little concern since few potential purchasers are likely to have more than a couple of these.
<![if !supportEmptyParas]> <![endif]>
The cause is a worthy one and the music is diverse enough in its own ways to show just how promising the future can be, making this a project meriting much support.
<![if !supportEmptyParas]> <![endif]>
---
<![if !supportEmptyParas]> <![endif]>
This is an original review by Geoff Wallis.
<![if !supportEmptyParas]> <![endif]>
Details of the album are available from agarvey@indigo.ie.
<![if !supportEmptyParas]> <![endif]>
---
<![if !supportEmptyParas]> <![endif]>
<![if !supportEmptyParas]> <![endif]>