Seán Keane
<![if !supportEmptyParas]> <![endif]>
A Portrait: Best of 1993-2003
<![if !supportEmptyParas]> <![endif]>
Circín Rua CR004CD; 71 minutes; 2004
<![if !supportEmptyParas]> <![endif]>
There is something decisively odd about the cover of Seán Keane's latest album, something perhaps a little ecclesiastical. It surely cannot have been deliberate but that white t-shirt collar poking above his pullover and the dark jacket does rather give him the air of a parish priest! Still, such an image is unlikely to deter his legions (hmm, perhaps not the right word) of fans, some of whom seem rather more interested in his latter-day status as one of Irish music's leading heartthrobs. Indeed some may find the photograph all the more enthralling. <![if !vml]>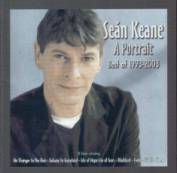 <![endif]>
<![if !supportEmptyParas]> <![endif]>
This latest album collates sixteen tracks from the albums he released between 1993 and 2003 and also includes two newly recorded songs, according to the accompanying press release. Somewhat annoyingly, however, neither said release nor the liner notes reveals the identity of this new material.  Indeed, the liner only provides each song's title, author(s), publishing details and lyrics. Details of personnel, the producers, dates and the sourced albums are all notably absent. This is a pity since the purpose of a compilation such as this is, partly, to draw attention to a singer's back catalogue.
<![if !supportEmptyParas]> <![endif]>
The material itself demonstrates just how far Seán has travelled from his musical roots. Only three of those eighteen tracks (May Morning Dew, Bundlin and Stór Mo Chroí) are traditional. The remainder derive from sources as varied as Bob Dylan, Mick Hanly, Lennon and McCartney, Townes Van Zandt, Richard Thompson and Robbie O'Connell, not forgetting Mr. Sting. There is a pronounced Country edge to many of the arrangements, but Seán's soft tones are definitely not always suited to his choice of material. He genuinely is too mild a man ever to consider Killing the Blues and it is difficult not to conjure images of the singer bedecked in a Gannex raincoat, sporting a trilby and cowering under an oversized golf umbrella when singing 'I'm no stranger to the rain'. Contrastingly, songs such as Isle of Hope, Isle of Tears and, of course, A Stór Mo Chroí are perfect vehicles for that plucking of the heartstrings at which Seán is so adept.
<![if !supportEmptyParas]> <![endif]>
Geoff Wallis
<![if !supportEmptyParas]> <![endif]>
3rd August, 2004
<![if !supportEmptyParas]> <![endif]>
---
<![if !supportEmptyParas]> <![endif]>
For more information about Séan visit www.seankeane.com.
<![if !supportEmptyParas]> <![endif]>
---
<![if !supportEmptyParas]> <![endif]>
<![if !supportEmptyParas]> <![endif]>