P.P. Slaggart
<![if !supportEmptyParas]> <![endif]>
---
<![if !supportEmptyParas]> <![endif]>
Tales from a Whisky Town
<![if !supportEmptyParas]> <![endif]>
Hibernopop – no number; 39 minutes; 2002
<![if !supportEmptyParas]> <![endif]>
Although dated 2002, this album by the Omagh singer-songwriter, P.P. Slaggart has actually only been on general release since the Spring of 2003. The album's concept is based around twelve songs representing different characters and recounting their stories. In the rock world, of course, thanks to The Who's Tommy and the Pretty Things S.F. Sorrow this would not be an original notion (indeed there are plenty of other examples). However, Slaggart sets his lyrics within a firm Irish folk-ballad setting and utilizes well-known musicians, such as bassist James Blennerhasset (who seems to have played with just about anybody who's somebody), The Waterboys' fiddler Steve Wickham (who also contributes mandolin, banjo and whistle), drummer Danny Byrt (from Sinéad Lohan's band) and guitarist Ted Ponsonby (who, like James, is a firm fixture on the Irish music scene). Moreover, it is extremely doubtful whether anyone has ever issued an album which seeks to provide "an insight into the Northern Irish male psyche" (as the press handout reveals). <![if !vml]>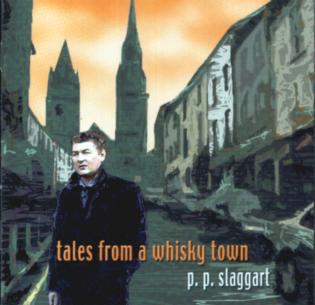 <![endif]>
From the opening bars of Dandy Said, redolent of Dylan's Blood on the Tracks period, Slaggart sports his influences on his sleeve. There's a touch of Dylan in his voice too, but, musically, it is not just the presence of Wickham which is evocative of The Waterboys' heyday, nor should Shane MacGowan and The Pogues be discounted as part of P.P.'s formative experiences. There's a notable Van Morrison feel at times too (especially in the arrangement of Divided Land) and even The Clash on Whisky Town while the music to Mother might have come from the pen of Townes Van Zandt.
<![if !supportEmptyParas]> <![endif]>
However, none of this should be taken to mean that Slaggart is a mere copyist for the reason that the album simply works and, though those aforementioned influences might suggest a certain degree of dating, in fact, Tales from a Whisky Town has an endearing freshness. Its strengths, of course, lie in part in the quality of the musicianship, but most pertinently in the sheer quality of P.P. Slaggart's writing.  There's an incisive wit at work here and one very capable of summing up a situation in just a few words. Take this verse from Mad Eye Ball Club as an example:
<![if !supportEmptyParas]> <![endif]>
Don't remember the day or the week or the month but I still remember my head.
I got a telephone call from my mother, she said I'd be better off dead
Than drinking and fighting, spitting and biting and talking dirty – to the wife of the President of the Golf  Club.
I had to admit it was me.
<![if !supportEmptyParas]> <![endif]>
Additionally, Slaggart does not shy from recounting the ugly effects of The Troubles, as Mother and Soldiers of the People amply reveal. The former's line 'Liberty's the reason I've lost my own freedom' reveals a very acute mind at work. What's more, the writing reveals a man very able to enter the minds of his subjects and express their views and emotions without ever approaching cliché land. His voice, sometimes gnarled, sometimes snarled, is also a tool he well understands and employs to splendid effect.
<![if !supportEmptyParas]> <![endif]>
If P.P. Slaggart came from Los Angeles or London, he'd probably have a lucrative record contract. Instead this is released on his own label and you'd be well advised to support his efforts.
<![if !supportEmptyParas]> <![endif]>
---
<![if !supportEmptyParas]> <![endif]>
The Ramblings of Dangerous McDaid
<![if !supportEmptyParas]> <![endif]>
Own label – no number; 45 minutes; 2006
<![if !supportEmptyParas]> <![endif]>
Daniel George McDaid was born in 1915 in Co. Tyrone, somewhere near the Donegal border in a pre-partitioned Ireland, to a poor unmarried mother and a wealthy landlord father. Although he knew only basic reading and writing skills, he learned the art of stripping and treating tree bark onto which his mother would produce beautifully crafted copies of Bible script. These they would frame and sell on their travels throughout the northwest of Ireland. This way of life came to an abrupt end when his mother died (probably of consumption) when Dan was just 13. The young boy was forced to take menial jobs to try and survive, an example of which is revealed in his song 'The Killer Line 1929', but travel and adventure were in his blood and he was soon living a life of petty crime, first travelling from town to town and , on joining a ship's company, from country to country. Convicted of theft with violence in Germany in 1937, he was given a choice between prison and the army. He chose the latter, little realising that world war was looming. (From P.P. Slaggart's account of the exciting adventures of 'Dangerous' Dan McDaid. <![if !vml]>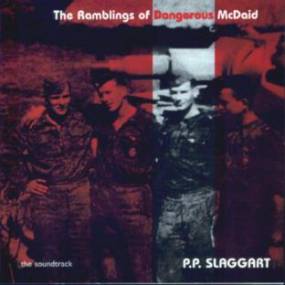 <![endif]>
<![if !supportEmptyParas]> <![endif]>
Did Dan McDaid ever exist? Was he really arrested for unauthorised goldmining in Mexico in 1949 and did he finally smuggle himself back to Ireland in 1962, turning his attentions to song composition and working as a bumper-car attendant at a funfair in Bundoran? Did he really take up with a 23-year-old and then simply vanish into thin air, leaving his inamorata Maryanne the tapes of his songs and anecdotes?
<![if !supportEmptyParas]> <![endif]>
Who knows the answers to any of these questions or why said songs all seem to fit that particular Tyrone style of Country 'n' Irish so well espoused by the man who supposedly transcribed McDaid's ditties and performs them on this album?
<![if !supportEmptyParas]> <![endif]>
Have a listen and make up your own mind.
<![if !supportEmptyParas]> <![endif]>
<![if !supportEmptyParas]> <![endif]>
---
<![if !supportEmptyParas]> <![endif]>
These are original reviews by Geoff Wallis.
<![if !supportEmptyParas]> <![endif]>
---
<![if !supportEmptyParas]> <![endif]>
<![if !supportEmptyParas]> <![endif]>
<![if !supportEmptyParas]> <![endif]>
<![if !supportEmptyParas]> <![endif]>