Sean-Nós Cois Locha
Rogha Sean-Nós Milwaukee 2003-2005
Cló Iar-Chonnachta CICD 162; 51 minutes; 2006
Áine Uí Mhuineacháin (Nan Chamais): Tá na Páipéir dhá Saighneáil; Virginia Stevens: A Chailín Scoth na Luachra; Lillis Ó Laoire: An tSeanbhean Bhocht; Síle Shigley: An tOileán Úr; Seosaimhín Nic Rabhartaigh: Dónall Ó Maoláine; Meaití Jó Shéamuis Ó Fátharta: An Caiptín Ó Máille; Bridget Fitzgerald: Bríd Óg Ní Mháille; Kathy Cowan: The May Morning Dew; Navan: Faill ill ó / Do Chrochadh a Thoill Thu Mhàiri; Máirín Uí Chéide: Caisleán Uí Néill; Moire Smiley: Dóin Dú; Brían Ó hAirt: An Buachaillín Bán; Julie Henigan: Thíos i dTeach an Tórraimh; Jimmy Crowley: Idir Corcaigh is Dúglas.
"Lake Michigan ain't no river. Chicago ain't no hilly town." Sonny Boy Williamson No 2 (Rice Miller)
<![if !supportEmptyParas]> <![endif]>
I hate the term sean-nós. It ascribes an archaic ancestry to a song tradition which is in fact fairly modern and very much alive. More than that, it represents the imposition, by external interest groups, of artistic and ethereal values to a music culture, which would probably never have been shared by the inheritors of that culture. Also, like many another term of similar ilk, it is in danger of becoming meaningless by over application. That is to say, it is used far too often in conjunction with any form of traditional or quasi-traditional unaccompanied singing. <![if !vml]>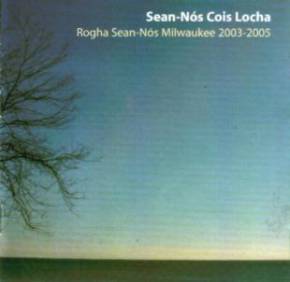 <![endif]>
Nevertheless, I would be the first to agree that the vocal traditions of Gaelic Ireland remain distinct from the art and oral musics of the rest of northwest Europe. Those distinctive qualities are too variegated to be embraced by a single ascription, but even so we need some sort of commonly accepted term for their delineation. Until something better comes along, sean-nós will have to do.
These thoughts were brought to a head by the present disc. It represents the gleanings of Sean-Nós Milwaukee, an annual festival of sean-nós singing, which was established in that city in 2003 by Brían Ó hAirt and John Gleeson. Sean-Nós Cois Locha in fact covers the first three festivals, i.e. those from 2003–2005 and the loch in question is Lake Michigan.
The idea of such a festival in such a place may seem a little strange, as does the fact that a number of the performers are neither from the Gaeltachtana nor even from Ireland. Here I need to announce one of my preconceptions. It is that the sean-nós cannot be taught. Like the blues or flamenco, it is so deeply rooted in its own social culture that it can only be properly performed by people who live within that culture - by people who absorbed the idiom along with their mother's milk.
I will return to that preconception in a minute. In the meantime, the disc starts off with a very fine Tá na Páipéir dhá Saighneáil from Áine Uí Mhuineacháin of Cinn Mhara, Co Galway. Her tone, diction and phrasing are superb, and she is a worthy heir to the song tradition as it exists along the coast of her part of Conamara. She has a way of lingering over certain phrases, thereby emphasising the pathos which is so innate in this most beautiful of melodies. Here and there, I felt the passion could have been more sustained, and she could have driven the story a little harder. But please remember these are live performances with no chances of a second take.
That point about live performance, incidentally, should also be emphasised with regard to the sound quality. There is a consistent background noise and, unless my headphones are playing up, a fair amount of distortion at times.
The next track is of a comparable stature and, ostensibly, it undermines my observations about authenticity and nativity. Virginia Stevens (real name Blankenhorn) is a native of California and an academic folklorist with, as far as I know, no Gaelic provenance. Yet her years spent studying Gaelic, and her first hand experience of the Conamara Gaeltacht, have clearly paid dividends. Her treatment of An Chailín Scoth na Luachra is positively hair raising, and bears favourable comparison with Pádraic a Catháin's rendering of that song on Topic 12T 177, Grand Airs of Connemara.
I don't want to turn this into a blow-by-blow description of the disc's contents, but I should mention track 3 at this point. Lillis Ó Laoire is another academic folklorist with, in my view, considerably less vocal talent than either of his predecessors. Even so, his relaxed and easy paced and somewhat risqué An tSeanbhean Bhocht presents a pleasant contrast to the emotional torrents which betide the jilting or accosting of women wherever Irish is sung or spoken. And at least one member of the audience seemed to enjoy the joke.
Unfortunately, from this track in, the record takes a downturn with a series of worthy but generally unconvincing performances. They begin with Síle Sigley's An tOileán Úr, and reach something of a nadir with Kathy Cowan's all too arty May Morning Dew (sean-nós?), before closing with a lacklustre Idir Corchaigh is Dúglas from Jimmy Crowley.
It's not all downhill fortunately, for there are fine performances from Máirín Uí Chéide, Moire Smiley and Julie Henigan, and an absolutely barnstorming Caiptín Ó Maille from Meatí Jó Shéamuis Ó Fátharta, a famous character in Conamara singing circles. This is easily the finest track on the whole disc, and fortuitously, it is also the longest at 5:21. This is sean-nós singing as rough and raw and magnificently uncompromising as you're ever likely to hear it, and it reeks of rock and bog and heather and peat, and the twisted, tortured, wave-battered shoreline of Conamara. I'd suggest buying the record for this track alone, but you would be wiser to invest in Ó Fátharta's solo CD, Bóithríní an Locháin, Cló Iar-Chonnachta CICD 154.
I have in the past had occasion to take Cló Iar-Chonnachta to task over the quality of their booklets. Here I'm glad to announce that the bulk of the honours are admirably performed by Brían Ó hAirt, and there is a bilingual introduction by Lillis Ó Laoire, the singer of An tSeanbhean Bhocht.
Unfortunately, Ó Laoire's introduction refers to the term 'raw bar', as though it is synonymous with Gaelic tradition. It is not. If I remember correctly, the phrase was originally reported by the Ulster folksong collector Seán O Boyle, who was asked whether he wanted a particular English language song with or without piano accompaniment. It is therefore a handy description of any form of traditional unaccompanied singing, and an alternative to one of the misuses of the term sean-nós which I complained of earlier.
I'm very reluctant to give this record the thumbs down, but I fear I have little alternative. I am reluctant because there is some excellent stuff on it, but also because Cló Iar-Chonnachta have been so good to us in the past. May they continue to be good to us in the future, and may everyone reading this avail themselves of the riches of their catalogue. Also, I'm acutely aware that the performers one and all have really tried, and it is not their fault if some of them fail to clear the bar. What is lacking with those singers is not commitment or technical ability. It is more likely that they have yet to develop the kind of ingrained understanding which can only be got via long years of familiarisation with the tradition, and with the people who carry that tradition. I have no pretensions towards becoming a sean-nós singer. If I had I'd sign up tomorrow for the Meatí Jó Shéamuis Ó Fátharta summer school. And if there isn't one, there damned well ought to be.
---
This review by Fred McCormick was originally compiled for Musical Traditions and is reproduced here with the kind permission of its author.
More information about Cló Iar-Chonnachta can be found at www.cic.ie.
---
<![if !supportEmptyParas]> <![endif]>