Solas
Click on the album title above to head straight to the relevant review.
---
Shanachie 78046; 53 minutes; 2002
No reader of goat's entrails was needed, the signs were all too visible. We were sitting in the changing room above The Jazz Café in London's Camden Town, Seamus Egan, Win Horan, Mick McAuley and I some time in September, 2000. It was Deirdre Scanlan's birthday and she was somewhere else in the building, celebrating with friends, while there was not a sign of the soon-to-depart John Doyle. I was interviewing Solas as part of the final stages of researching The Rough Guide to Irish Music and the trio were telling me about the factors which influenced their recording of The Hour Before Dawn.<![if !vml]>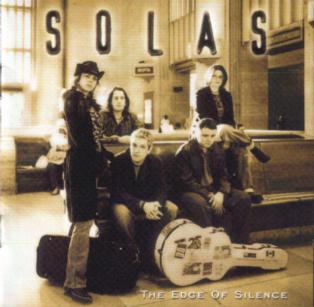 <![endif]>
I had brought in a copy of another book, The Rough Guide to Drum 'n' Bass to give the band an idea of my own book's format and it soon found its way into Seamus's hands, leading to a brief discussion about recording techniques. More especially, we concentrated on the increasingly percussive nature of the band's music and their use of additional musicians in the studio to create a fuller sound. The eagerness to develop in new directions was both easily discernible and almost infectious, though the band went out that night and played a barnstorming set which gave no indication of the changes afoot.
So, let's start with the bare bones. The Edge of Silence has, as might be expected, traditional elements, but is positively not a traditional album. Indeed, at times it is barely distinguishable as even a Solas album with the band donning a coat of many colours, sounding even at one stage like Radiohead! The song sources offer a huge clue. The opening track (Darkness, Darkness) was written by Jesse Colin Young for one of the USA's most influential 1960s rock bands, The Youngbloods. There's a Dylan song (Dignity), one by Nick Drake (Clothes of Sand) and even one from Tom Waits (Georgia Lee) plus a couple by a young US singer-songwriter Antje Duvekot. One of the latter, The Poisonjester's Mark, apart from sounding like a Marillion title, has a chorus straight out of Jefferson Airplane's agitprop period:
How Much More Can We Bare
Till the Way is Paved, Ah...
For the Revolution
There'll Be Nothing Left Unchanged.
While the song itself is replete with extended guitar workouts and thunderous drumming.
If this sounds like a band rediscovering its record collection (or perhaps even its elder brothers' and sisters'), then consider the instrumentals. All are self-penned: three from Seamus; a pair from Win; and, one from Mick. Previous Solas albums have hinted at diversity, but only Winifred's Charmy Chaplin declares any real traditional roots while her Maybe a Prayer harkens back more to her classical training. Two of Seamus's pieces serve more as mood settings for the songs into which they segue while his third has that kind of quirky Eastern European feel exhibited on The Words That Remain. Mick's piece, Beck Street, shares similarities and is equally heavy in terms of percussion.
Now move on to the instruments themselves and check the listings. That previously mentioned electric guitar belongs to one Seamus Egan while the guest musicians include players of electric bass, drums, programming and keyboards, and electric guitar and lap steel. All these combine to produce driving, indeed, sometimes pounding music, but with much variation and reflection, especially in the arrangement of Clothes of Sand, sung eloquently by Mick. Deirdre might never have dreamed of singing Darkness, Darkness during her days in the Nenagh Singers Circle, but delivers this and her other songs with appropriate ease, zest and impact.
Ultimately, virtually every track can be read as a tone poem, created by a band eager to utilise the studio's treats, looking back while seeking to create a new future. Seamus's multi-instrumental role is pivotal to the Solas project and he shares production duties with Neil Dorfinan, the latter's role being reinforced by his repeated listing as co-arranger, alongside programmer and keyboards player Dave West, in the credits.
Traditional purists will long ago have washed their hands of Solas and many fans will find the transition to The Edge of Silence a step to far. However, others like myself will find each new playing a journey of discovery through the minds of a band ever capable of exciting the senses. In places The Edge of Silence is simply stunning, at others its gobsmacking, but, overall, it marks out Solas at the cutting edge of the interface between the worlds of rock and traditional music.
---
<![if !supportEmptyParas]> <![endif]>
<![if !supportEmptyParas]> <![endif]>
Shanachie SH 78056; 54 minutes; 2003
<![if !supportEmptyParas]> <![endif]>
<![if !supportEmptyParas]> <![endif]>
The Irish-American quintet's last album, 2002's The Edge of Silence, received a critical pounding in some quarters. On the one hand, traditional purists rejected its use of electric guitar and bass, drums and programming and especially the presence of songs from such unlikely sources as The Youngbloods and Tom Waits. On the other, rock critics were bemused why such a successful traditional band should want to explore such foreign territory. <![if !vml]>
<![endif]>
<![if !supportEmptyParas]> <![endif]>
In essence, both camps had pitched themselves in the wrong forest, let alone barking up the wrong tree, for Solas since its inception has always been far more experimental than actually credited. Despite yet another personnel change (which has seen guitarist Dónal Clancy rejoining Danú – see p.000 – and replaced by Eamon McElholm), the band's sixth album, Another Day, offers further proof (though none is needed) that Solas remain at the cutting edge of Irish traditional music and ever eager to experiment.
<![if !supportEmptyParas]> <![endif]>
Certainly more relaxed than its predecessor, Another Day still blazes a trail which the less adept are incapable of following. Central to the endeavour are the enduring talents of multi-instrumentalist Seamus Egan, fiddler Win Horan and accordionist Mick McAuley, as evinced via the instrumental fireworks of Bird in the Tree (enhanced by drum and bass) and the appropriately-named The Wiggly Jigs, but singer Deirdre Scanlan produces some of her best work yet on the rhapsodic Scarecrow's Dream and the traditional Maire Mhilis Brea. McElholm provides the bedrock throughout the whole package, arrangements retain all the band's hallmark subtlety and the quirkiness of Horan's and Egan's own compositions remains unsullied. Ignore them at your peril!
<![if !supportEmptyParas]> <![endif]>
---
<![if !supportEmptyParas]> <![endif]>
<![if !supportEmptyParas]> <![endif]>
Shanachie 78060; 59 minutes; 2005
<![if !supportEmptyParas]> <![endif]>
Never a band to tread water, the Irish-American quintet Solas's seventh album builds on their last outing, 2003's Another Day, to barn-storming effect and truly captures the contrasting boisterous energy and unsullied grace of the band's live performances. <![if !vml]>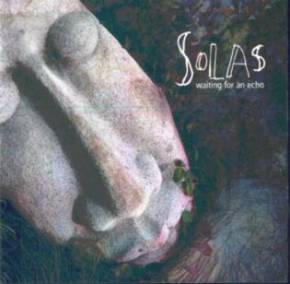 <![endif]>
<![if !supportEmptyParas]> <![endif]>
Multi-instrumentalist Seamus sets the scene perfectly, whirling his way through his own composition The Hanover Reel in a splendid frenzy of plectrum abuse while fiddler Winifred Horan and accordionist Mick McAuley marshal their respective arts to superb effect on a trio of polkas (Seamus adds some telling flute too). The last of these, The Newmarket is one of those tunes whose rhythm is so relentless (and its performance here so flawless) that foot-tapping oblivion is unavoidable.
<![if !supportEmptyParas]> <![endif]>
Singer Deirdre Scanlan's voice is a maturing entity, ever growing in a confidence founded on its increasing ability to deliver material coloured by subtle nuances. There's no finer example than her splendid rendition of On a Sea of Fleur de Lis. However, nowadays, of course, Solas has three vocalists, so Deirdre only has two further outings, including an infectious version of the traditional The Ploughman. McAuley's sensuous larynx enjoys two outings, including, appropriately enough, one of the tradition's sexiest songs, The Night Visit (atmosphere emphasized by one of Egan's spookier electric guitar outings) while guitarist Eamon McElholm lets loose on the raunchy Lowground.
<![if !supportEmptyParas]> <![endif]>
Surprisingly, there's only space for two Win Horan compositions, one of which pays tribute to the Donegal fiddler Stephen Campbell and thoroughly captures his plangent tone, while the other winds the album to a close via the gorgeous instrumental lullaby Mi Pequena Estrella.
<![if !supportEmptyParas]> <![endif]>
---
<![if !supportEmptyParas]> <![endif]>
<![if !supportEmptyParas]> <![endif]>
Compass Records 7 4431 2; CD (75 mins) + DVD; 2006
<![if !supportEmptyParas]> <![endif]>
When bands reunite for yet another 'farewell' tour they often seem to be producing cover versions of their own back catalogues. Such is far from the case in reference to Reunion, the fruits of a celebration concert called by Solas in Philadelphia to celebrate the Irish-American group's tenth anniversary. All nine past and present members are featured as well as singer-songwriter Antje Duvekot, supplier of songs such as Black Annis and the only new item, Reasonland, as well as its regular studio auxiliary section (featuring percussion, drum kit, keyboards and bass). <![if !vml]>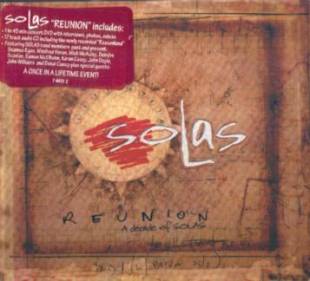 <![endif]>
<![if !supportEmptyParas]> <![endif]>
Solas's two only ever-present members, fiddler Winifred Horan and multi-instrumentalist Seamus Egan have long been noted for their acumen and Reunion reinforces that viewpoint by judicious juggling of the personnel available, allowing everyone the chance to shine and devising a set-list which balances the relatively new and the old to perfection.
<![if !supportEmptyParas]> <![endif]>
Current vocalist Deirdre Scanlan has probably never delivered a better or emotive version of Silver Dagger, while past chanteuse Karan Casey is perfection personified on Newry Highwayman, plus notable vocal outings for other current members Eamon McElholm and Mick McAuley. However, it's that sheer Solas brio, invigorating the instrumental tracks, which offers so much inspiration. Whether the rhythm's supplied by ex-guitarists John Doyle and Dónal Clancy, Eamon or the backing section, and whether Mick or past member John Williams is supplying the squeezebox, Solas are on cracking form throughout and determined to explore all the rhythmic twists of tune sets such as Who's in the What Now.
<![if !supportEmptyParas]> <![endif]>
Arrangements remain stunning in both their simplicity and originality, yet (despite the presence of such a wealth of other talents) the true stars are Horan and Egan, as the accompanying sixteen-song DVD (plus nine bonus cuts) fully reveals. Seamus is an impossibly talented bedrock, a master on the flute, guitar, banjo and whistle whose sonic injections are essential to the band's ethos. Win's classical background means that her fiddlework sometimes inhabits dimensions rarely entered by her more solidly traditional contemporaries and, while an essential driving force on the faster tunes, is best explored via the eloquence of her airs (not least Les Poules Huppées).
<![if !supportEmptyParas]> <![endif]>
Additionally, the DVD really does take the viewer from the sitting room to the concert hall and leaves the abiding impression that one should have been there to enjoy the moment. All power to Solas's elbows!
<![if !supportEmptyParas]> <![endif]>
---
<![if !supportEmptyParas]> <![endif]>
<![if !supportEmptyParas]> <![endif]>
Compass Records 7 4490 2; 51 minutes; 2008
<![if !supportEmptyParas]> <![endif]>
Taking its title from the opening line of the old Dillards' song There is a Time, the ninth album by the Irish-US band Solas is a wing-spreading exercise comparable to their critics-dividing 2002 release The Edge of Silence. Featuring new singer, Kilkenny's Mairéad Phelan, For Love and Laughter heads back to the past in the form of songs such as Seven Curses (described as 'traditional', but usually associated with Dylan), the aforementioned Dillards, Rickie Lee Jones's Sailor Song and, furthest back of all, the really traditional Donegal ditty Mollaí na gCuach Ní Chuilleanáin (previously recorded by both Altan and Danú). <![if !vml]>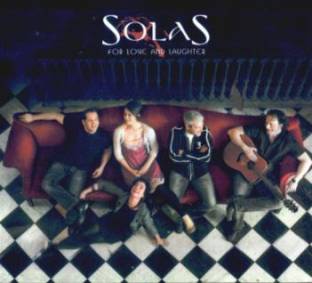 <![endif]>
<![if !supportEmptyParas]> <![endif]>
Moreover, just as that 2002 album saw Solas heading off in an electric direction, FL&L witnesses a major collaboration in the shape of two tracks recorded with Winnipeg's The Duhks. While one of these is a frenetic instrumental workout (Vital Mental Medicine/The Pullet) the other, the Antje Duvekot song Merry Go Round is given the sort of instantly forgettable treatment familiar to anyone who's watched outtakes from The Transatlantic Sessions.
<![if !supportEmptyParas]> <![endif]>
None of the above should be taken to diminish the still majestic skills of Solas's fiddler Winifred Horan, multi-instrumentalist Seamus Egan (shining as ever on flute and banjo, plus a rare outing of his mandolin), accordionist Mick McAuley and guitarist Eamon McElholm – and the instrumental tracks, whether self-composed or traditional, are as perkily powerful as ever – but if ever there was a case of the band hitting the bland it's apotheosis would be the terribly twee (and vastly inappropriate) rendition of the song The Gallant Hussar.
<![if !supportEmptyParas]> <![endif]>
---
<![if !supportEmptyParas]> <![endif]>
All reviews were written by Geoff Wallis and originally appeared in Songlines - www.songlines.co.uk – with the exception of the review of The Edge of Silence which was specifically penned for The Irish Music Review.
<![if !supportEmptyParas]> <![endif]>
Click here for more information about Shanachie or here for more information about Compass Records.
<![if !supportEmptyParas]> <![endif]>
---
<![if !supportEmptyParas]> <![endif]>
<![if !supportEmptyParas]> <![endif]>
<![if !supportEmptyParas]> <![endif]>