Seán Ó Riada with Seán Ó Sé and Ceoltóirí Cualann
<![if !supportEmptyParas]> <![endif]>
Ó Riada sa Gaiety
<![if !supportEmptyParas]> <![endif]>
---
<![if !supportEmptyParas]> <![endif]>
<![if !supportEmptyParas]> <![endif]>
Revised version (with bonus tracks)
<![if !supportEmptyParas]> <![endif]>
Click on one of the above links to head straight to your selected review.
<![if !supportEmptyParas]> <![endif]>
---
<![if !supportEmptyParas]> <![endif]>
Gael Linn CEFCD 027; 42 minutes; 2004 CD reissue of 1970 LP
<![if !supportEmptyParas]> <![endif]>
I have given a fair amount of thought to the idea of playing Irish music as a group activity. It seems to me that this is one of the most important ways in which Irish music could develop. Let us postulate, therefore, an ideal type of Céilí Band or orchestra. The first thing it must have is variety – which, expressed through variation, is a keystone of traditional music. It must not, therefore, flog away all the time, with all the instruments going at once, like present-day Céilí Bands. Ideally, it would begin by stating the basic skeleton of the tune to be played; this would then be ornamented and varied by solo instruments, or by small groups of solo instruments. The more variation the better, so long as it has its roots in the tradition, and serves to extend the tradition rather than destroy it by running counter to it. <![if !supportFootnotes]>[1]<![endif]>
<![if !supportEmptyParas]> <![endif]>
Without this album there would have been no Planxty. <![if !supportFootnotes]>[2]<![endif]>
<![if !supportEmptyParas]> <![endif]>
<![if !vml]>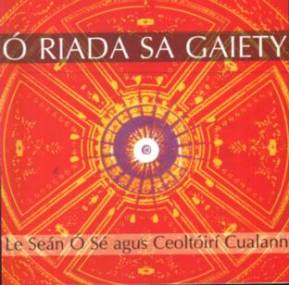 <![endif]>The prestigious Irish label Gael Linn is celebrating its fiftieth anniversary and Ó Riada sa Gaiety is one of several albums being reissued as part of this celebration, except perhaps the word should be 're-launched' as the recording has been available in CD format for some years. Originally issued in 1970, the year preceding Seán Ó Riada's untimely death, the album consists of recordings made at a concert held at Dublin's Gaiety Theatre in March 1969 to celebrate the bicentenary of the demise of the poet Peadar Ó Doirnín and features the County Cork-born singer Seán Ó Sé alongside the nine-strong Ceoltóirí Cualann, an ensemble directed by and including Ó Riada.
<![if !supportEmptyParas]> <![endif]>
Ó Riada sa Gaiety was the fifth album to be recorded by Ó Riada and Ceoltóirí Cualann<![if !supportFootnotes]>[3]<![endif]> and remains the most widely known, partly because it has been more regularly available in CD format than its predecessors, but also because in many ways it encapsulated the principles stated in the quotation at the head of this review (though the music exhibited here bears about as much resemblance to a céilí band as a wallaby does to a dishwasher). Although public performances by Ó Riada and Ceoltóirí Cualann were a relative rarity, Irish ears had already become well accustomed to the ensemble's sound thanks not only to those aforementioned earlier releases, but to its radio broadcasts and, of course, the first and second albums released by The Chieftains<![if !supportFootnotes]>[4]<![endif]>. That band, of course, had emerged from Ceoltóirí Cualann, although its leader, Paddy Moloney, had long been interested in experimentation. As he told this reviewer in an interview in 2002, Paddy's own experience of playing in céilí bands had led him to become "more interested in the combination of instruments. [He] could hear harmonies and would play counter-melodies which was a little bit off the beaten track for the purists."<![if !supportFootnotes]>[5]<![endif]>
<![if !supportEmptyParas]> <![endif]>
At the time of the recording of Ó Riada sa Gaiety The Chieftains were still semi-professional musicians. All six members feature on the album (Paddy on uilleann pipes, fiddlers Martin Fay and Seán Keane, whistler Seán Potts, Michael Tubridy on flute and Peadar Mercier on bodhrán), the additional two musicians being the fiddler John Kelly and accordionist Eamon de Buitléar.
<![if !supportEmptyParas]> <![endif]>
Right from the outset, Seán Ó Riada's emphasis on "stating the basic skeleton of the tune to be played" is emphatically apparent. Marcshlua Uí Neill begins with Michael Tubridy's flute describing the melody to the accompaniment of the bodhrán, before being joined by Seán Potts's whistle. Then the trio of fiddlers take over the melody before they, in turn, are subsumed by Moloney's uilleann pipes. The whistle returns for another run through of the tune and all then participate in what can only be described as a closing riff. It remains absolutely riveting, but one wonders just how much of the tune's arrangement came from Moloney and The Chieftains and how much derived from Ó Riada.
<![if !supportEmptyParas]> <![endif]>
Whatever the case, the effect is immediately dissipated by a performance of Ó Riada's most famous composition, Mná na hÉireann. The words were written by Peadar Ó Doirnín, but the air is distinctively Seán's. The song or the air alone have subsequently been recorded many times, by musicians as various as Kate Bush and the jazz-funk keyboard player Bob James, but one suspects that the version here on Ó Riada sa Gaiety is the one which Ó Riada would regard as definitive. In this case, his harpsichord (an instrument employed because he believed it was closest in sound to the old bardic brass-strung harp) provides the opening, before the classically trained tenor Seán Ó Sé enters the arena. Frankly, whilst this performance might have been viewed as groundbreaking at the time, it now seems staid and akin to a Victorian country house after-dinner drawing room rendition. Ó Riada is rightly regarded as having kick-started a new version of ensemble playing of Irish traditional music, but nobody could possibly argue that his arrangements of songs or Seán Ó Sé's delivery inspired a host of imitators. Carrickfergus is still often sung, but rarely with the histrionic styling employed by Ó Sé in a macaronic rendition (track seven) entitled Do Bhí Bean Uasal, although Josef Locke would certainly have enjoyed it.  However, Ó Sé's rendition of Iníon an Phailtínigh ('The Palatine's Daughter' – track eleven) does bear a very close resemblance to the kind of crowd-stirring performance that Kevin Conneff would later employ as a member of The Chieftains.
<![if !supportEmptyParas]> <![endif]>
The second quotation at the head of this review referred to the origins of the band Planxty, but one wonders just how far Christy Moore's tongue was sticking into his cheek when he spoke those words. Planxty Johnson (track four), the only form of the tune type to appear on Ó Riada sa Gaiety, is far-removed from the Planxty sound as evinced by the band's eponymous and subsequent albums. However, it is very adjacent to the performances of The Chieftains whose approach to ensemble playing is also strongly evident in the versions of the two slips jigs comprising The Whinny Hills of Leitrim (track five). However, the intention of exploring melodic counterpoint (a very untraditional thing to do) becomes something of a cacophonic farrago when de Buitléar's accordion enters the arena, largely because his instrument is clearly out of tune with the other musicians. An extremely plodding version of the air An Ghaoth Aneas follows.
<![if !supportEmptyParas]> <![endif]>
Track nine is a Paddy Moloney showcase and consists of the March of the King of Laois ('Máirseáil Rí Laoise'), but, bluntly, it is an uninspiring tune verging on the insipid. Then follows Ó Riada's solo harpsichord rendition of two airs (An Chéad Mháirt den Fhómhar and Na Gamhna Geala) which simply reminds one of Samuel Johnson's remark about the value of the cucumber – it "should be well sliced, and dressed with pepper and vinegar, and then thrown out, as good for nothing". Ó Riada slices and dresses, but to nugatory effect. The closing and twelfth track, Ríl Mhór Bhaile an Chalaidh, repeats the formula exhibited by its opening predecessor.
<![if !supportEmptyParas]> <![endif]>
So where does this leave us? Firstly, there is no doubt that the Ó Riada's and/or Paddy Moloney's arrangements of Irish traditional melodies and songs had a contemporary impact, but it was one which largely affected middle- and upper-class sensibilities and allowed an appreciation of the music's rural origins without tainting any of the listeners with the farmyard mire<![if !supportFootnotes]>[6]<![endif]>. Secondly, while there is no questioning of the quality of the musicianship exhibited on Ó Riada sa Gaiety, those arrangements had little impact on the ways traditional musicians in the rural West and Northwest continued to play (or, for that matter, London, Luton or Birmingham). Neither the planxty nor the march ever became a significant part of most musicians' repertoires. Arguably, in fact, it was the introduction of the pub session to Ireland that has had a more lasting impact on traditional musicianship and the ways in which the music continues to be played, involving an emphasis on unison playing rather than exploration of a tune's potential variations.
<![if !supportEmptyParas]> <![endif]>
It might seem heretical to suggest so, but one wonders whether hindsight has provided a 20x20 vision of Ó Riada's influence. In a very important sense Ó Riada did "extend the tradition", but, in retrospect, it does seem that this was more to do with raising awareness about its essential value than in regard to any lasting musical effect.
<![if !supportEmptyParas]> <![endif]>
On a closing note, it is somewhat sad that this Gael Linn reissue (or re-launch) of Ó Riada sa Gaiety merely re-presents a previously available album. No additional written material is included in the very brief liner, nor are its readers given pointers to where other live recordings of Ó Riada might be found. There was an album of such material, including additional tracks from the Gaiety concert, released in the early 1970s and bearing the simple title of Ó Riada<![if !supportFootnotes]>[7]<![endif]>, but this is not available in CD format from Gael Linn and is apparently still licensed to Celtic Music.
<![if !supportEmptyParas]> <![endif]>
---
<![if !supportEmptyParas]> <![endif]>
This review was written by Geoff Wallis in August 2004 for Musical Traditions..
<![if !supportEmptyParas]> <![endif]>
Visit www.gaellinn.com for more information about the label's catalogue.
<![if !supportEmptyParas]> <![endif]>
---
<![if !supportEmptyParas]> <![endif]>
ORIADACD01; 53 minutes; 2005 CD reissue of 1970 LP with bonus tracks
<![if !supportEmptyParas]> <![endif]>
Forgive this site for blowing its own trumpet, but it has good authority for believing that the closing paragraph in the above review provoked Gael Linn into issuing a new version of Ó Riada sa Gaiety in a manner much more befitting of Seán Ó Riada's memory.
<![if !supportEmptyParas]> <![endif]>
<![if !vml]>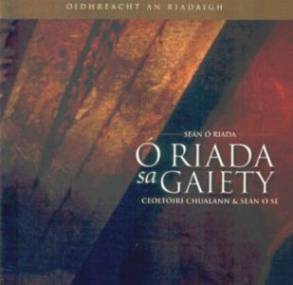 <![endif]>This new edition incorporates a well designed twenty-four page liner booklet, replete with several photographs of Seán, though strangely only one of Ceoltóirí Chualann (all in black suits and dicky-bows), as well as an introduction to his work by Seán Mac Réamoinn. There's also a brief biography of Ó Riada by his son Peadar, the lyrics to three of the songs and two brief contributions on Ceoltóirí Chualann, though it is puzzling that the English- and Irish-language versions required different authors.
<![if !supportEmptyParas]> <![endif]>
As for those bonus tracks mentioned above, there are three and all are songs featuring Seán Ó Sé – Binn Luisín Aerach a'Bhrogha, which translates as 'The Melodious Fairy Mound of Bruff', and An Spéirbhean Mhilis, which features some evocative piping from Paddy Moloney. The third is the much better known An Buachaill Caol Dubh, though (and it has to be remarked) Ó Sé is not on the best form here.
<![if !supportEmptyParas]> <![endif]>
The entire album (including the additional tracks) has been remastered and sounds all the better for the process. Now all we need is for Gael Linn to turn its attention to some more of its as yet un-rereleased vinyl classics.
<![if !supportEmptyParas]> <![endif]>
Geoff Wallis
<![if !supportEmptyParas]> <![endif]>
15th August, 2005
<![if !supportEmptyParas]> <![endif]>
<![if !supportEmptyParas]> <![endif]>
---
<![if !supportEmptyParas]> <![endif]>