The Sound of Coleman Country: Music from South Sligo
Coleman Heritage Centre CCD01; 60 minutes; 1998
This was the first, and perhaps still, in some ways, the best CD to be issued by the Coleman Heritage Centre in Gurteen, County Sligo. Back in 1998 the recently built Centre had still to realize its potential and what better way to beat trails for the future than this extensive 20-track survey of the state of music in South Sligo, sponsored by Gurteen's Teach Murray pub? <![if !vml]>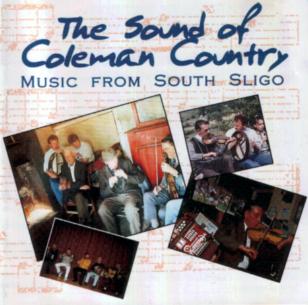 <![endif]>
As the brief liner notes state, the Centre's aim is to "promote the living tradition" and this CD is, in reality, an extensive tribute to the strength of the local musical heritage. In one sense, the album rounds up many of the usual suspects from the area, so it's no surprise to find tracks by singer and flute player Colm O'Donnell and his brother Séamuson flute, whistler and singer Carmel Gunning, the fiddles of Andrew Davey and Declan Folan and the presence of accordionist P.J Hernon, playing both with his son Domhnaill and the Swallows Tail Céilí Band. However, in many ways, the importance of this recording lies simply in the four tracks recorded by one of the Sligo greats, the flute player Peter Horan, accompanied twice each by guitarist Hazel Shannon and bodhrán player Junior Davey (son of Andrew). Those who recall the album Peter made for CCÉ with his long-time musical partner, fiddler Fred Finn, will instantly recognize the sheer lyricism of Peter's playing and it must be hard to envisage a more complete rendition of one of the duo's most renowned tunes, Maid Behind the Bar.
Elsewhere, there's a wonderful song, The Ploughboy, by the equally wondrously named Batty Sherlock (at a guess, a relative of Roger's) and a closing brief blast by The Coleman Heritage Group, consisting of virtually everyone already mentioned.
---
This review by Geoff Wallis was originally written for Musical Traditions – www.mustrad.org.uk.
This CD can be purchased directly from The Coleman Heritage Centre, Gurteen, County Sligo – www.colemanirishmusic.com.
---
<![if !supportEmptyParas]> <![endif]>