Sam Proctor
<![if !supportEmptyParas]> <![endif]>
Natural Progression
<![if !supportEmptyParas]> <![endif]>
Higlet Recordings HGR081; 47 minutes; 2008
<![if !supportEmptyParas]> <![endif]>
Sam Proctor is a young and thoroughly vivacious fiddler from Nottingham who became immersed in Irish music through the Co-op Folk Club which his parents ran in said city, trips to folk festivals and holidays in Ireland. He's now a regular on the session scene in both London and Slough and Natural Progression represents a thoroughly accomplished debut. <![if !vml]>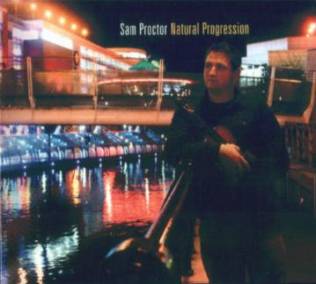 <![endif]>
<![if !supportEmptyParas]> <![endif]>
However, this is very much an album of its time, rooted equally in that adopted tradition and the music of those who have explored its seemingly ever-expanding boundaries. So, rather than the raw 'nyah' of a fiddler such as Ciarán Ó Maonaigh, Sam's music employs a wide range of backing possibilities – swirling strummed and picked guitars (no fewer than five different guitarists appear here), resonant double bass and bodhrán, electronic keyboards, and, more traditionally, the accordion of Luke Daniels and flute of Kate Proctor.
<![if !supportEmptyParas]> <![endif]>
Though all is crafted superbly, like many a debut album, Natural Progression draws heavily upon others' approach to the music. So it comes replete with a myriad of reference points. Sam's surely his own man, but the tune arrangements reveal the heavy influence of fiddlers such as Frankie Gavin, Kevin Burke, Tommy Peoples, Liz Carroll and Eileen Ivers while also paying homage to Lúnasa and (especially via the prominence of guitar and bodhrán) to Flook. Much of this is encapsulated in The Flooded Road, a set which begins with Muriel's Waltz and progresses via a somewhat hefty rhythmic change to the reels Flooded Road to Glenties and Beare Island.
<![if !supportEmptyParas]> <![endif]>
This is not meant, by any means, to decry Sam's arrangements, but to suggest that experienced musical trainspotters will be well capable of identifying the various routes listed on his station timetable. However, there's no doubting that such references do actually undermine one's overall satisfaction and, it must be said, at times the fiddle is far too low in the mix.
<![if !supportEmptyParas]> <![endif]>
Nevertheless, this remains a remarkably good debut album. Sam's fiddle tone and technique are impressive, whether playing sprightly tunes such as The West Kerry Polka and Fred Finn's reel or slower numbers such as the title track (a mordant reel from the pen of Declan Folan).
<![if !supportEmptyParas]> <![endif]>
Geoff Wallis
<![if !supportEmptyParas]> <![endif]>
18th June, 2008
<![if !supportEmptyParas]> <![endif]>
---
<![if !supportEmptyParas]> <![endif]>
For more information visit www.samproctor.com.
<![if !supportEmptyParas]> <![endif]>
---
<![if !supportEmptyParas]> <![endif]>
<![if !supportEmptyParas]> <![endif]>