Sarah and Rita Keane
<![if !supportEmptyParas]> <![endif]>
Once I Loved: Songs from the West of Ireland
<![if !supportEmptyParas]> <![endif]>
Claddagh CC4CD; 45 minutes; 2006 reissue of 1968 LP
<![if !supportEmptyParas]> <![endif]>
---
This is a re-release of an album recorded in 1968 (Claddagh CC4). It has long been considered a classic, and long been unavailable. The Keane sisters are recognised as important tradition bearers, and have received quite a bit of well deserved attention in certain traditional singing circles. They are part of an extended musical family which includes their nephew Seán and niece Dolores, who is a former member of the group De Dannan. Those readers who already know all this do not need any comment from me, except perhaps to say that the sound quality is good and the notes and cover are simply a reprint of the original. The latter is a bit of a shame, an update and some more thorough notes on both singers and songs would have been welcome. <![if !vml]>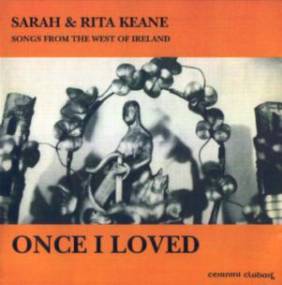 <![endif]>
The question in my mind is whether this album can reach a new generation of listeners who are used to hearing their traditional songs delivered with a generous helping of 'recording artist' posturing, not to mention accompaniment. The opening strains of the title track hit your ears in much the same way as your very first drink of whiskey hits the throat. Searing yet sweet and smooth all at the same time, it may take a little time to adjust to the new sensations. The singing tone is nasal and earthy, natural but full of nuance and artistry. Although there are absolutely no vocal acrobatics there is plenty to admire as regards vocal control and ornamentation, not to mention storytelling ability.
These songs (seven in English, four in Irish) offer the listener a musical window into another time: a time when the boredom of repetitive domestic tasks was greatly relieved by the singing and sharing of songs, and where songs were cherished, polished and handed on in much the same way as pieces of fine china and other family heirlooms ­– a mindset in which a household blessed with a singer or two with a good store of songs was considered lucky indeed and a far cry from today's MP3 culture, where a song is simply a fleeting signal on an iPod, soon to be discarded and forgotten.
My personal favourites are the achingly beautiful Sarah Keane solo Moll Dubh an Ghleanna (often known as The Dark Woman of the Glen) and the sweet and simply presented duet When Two Lovers Meet, but there is not a single track here that is either inferior or out of place. In fact, the similarity of pace and vocal tone throughout may be the one weakness of this collection. Even Túirne Mháire, which often receives a rollicking, up-tempo treatment from other singers proceeds at the sisters' usual calm and measured tempo. Depending on my mood, I can either find this aspect of the album slightly irritating or transporting and hypnotic. This refusal to alter the mood or pace from start to finish certainly makes no concession to the supposed short attention span of the modern listener, but to have done so might also spoil the overall effect, as so often happens when more commercial recording artists depart from their own style in the name of variation, or including 'something for everyone'.
This album is not for everyone, but it would be a shame if this reissue were only to be purchased by those replacing a worn-out tape or LP. It certainly deserves a much wider hearing, and those with the patience to actually sit down and listen to it will be richly rewarded.
This is an original review by Kris Hughes.
<![if !supportEmptyParas]> <![endif]>
February, 2007.
<![if !supportEmptyParas]> <![endif]>
---
<![if !supportEmptyParas]> <![endif]>
Click here for more information about Claddagh Records.
<![if !supportEmptyParas]> <![endif]>
---
<![if !supportEmptyParas]> <![endif]>
<![if !supportEmptyParas]> <![endif]>
---
<![if !supportEmptyParas]> <![endif]>
<![if !supportEmptyParas]> <![endif]>
<![if !supportEmptyParas]> <![endif]>
<![if !supportEmptyParas]> <![endif]>
<![if !supportEmptyParas]> <![endif]>
<![if !supportEmptyParas]> <![endif]>
<![if !supportEmptyParas]> <![endif]>
<![if !supportEmptyParas]> <![endif]>
<![if !supportEmptyParas]> <![endif]>