Steve Shaw and Martin Cole
<![if !supportEmptyParas]> <![endif]>
Blowing Through the Reeds
<![if !supportEmptyParas]> <![endif]>
Own label SSAMCCD001; 45 minutes; 2004
<![if !supportEmptyParas]> <![endif]>
Harmonica albums are rare birds, so when one flies in unexpectedly from the big blue yonder, it is time to sit back and savour (well, at least, if you share this reviewerís passion for the instrument). <![if !vml]>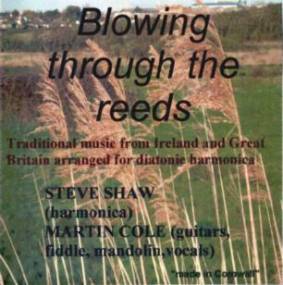 <![endif]>
<![if !supportEmptyParas]> <![endif]>
Steve Shaw is an Englishman, based in Cornwall, and his aptly-titled album, Blowing Through the Reeds, reveals a rather special talent. Though the liner cover describes this as a collection of traditional music from Ireland and Great Britain, Irish tunes predominate. Indeed, the only exceptions are a couple of Northumbrian tunes (Proudlockís Hornpipe and Hesleyside Reel) and a pair of Scottish reels (Barrowburn and Far from Home). The opening track, City of Savannah, has also increasingly found its way into the repertoires of Irish musicians and can be found on both Matt Molloyís Stony Steps and Joe Derraneís The Tie That Binds.
<![if !supportEmptyParas]> <![endif]>
Two facets of Steveís playing rapidly come to light. The first is that he can produce some of the choicest triplets and rolls you are ever likely to hear on a harmonica and the second lies in his preference for a steady pace, one in which the full joys of the melody and his playing become readily apparent. Two adjacent examples spring to mind. His rendition of the Carolan piece Lord Inchiquin has an innately stately presence while the set of reels begun by Mary Stauntonís has an irresistible quality.
<![if !supportEmptyParas]> <![endif]>
Perhaps sometimes the pace veers towards the plodding, as on the jigs Out on the Ocean and Blarney Pilgrim, but his technical agility on a pair of polkas (Ger the Rigger and Bill Sullivanís) more than compensates for this lapse. Indeed, sometimes the slower speed does work to his advantage, as on The Butterfly slip jig, where the combination of mouth harp and fiddle provides a wonderfully suggestive resonance.
<![if !supportEmptyParas]> <![endif]>
That excellent fiddle is provided by the albumís producer, Martin Cole, who also supplies guitars and mandolin, usually to appropriate effect, though again, the pace his guitar sets on the aforementioned jigs might be the cause of the problem. Martin also provides the albumís only song, his own atmospheric and powerfully performed Farewell Rose of England.
†
Blowing Through the Reeds is a thoroughly engaging album and we will certainly be hearing more of Steve and Martin in the future.
<![if !supportEmptyParas]> <![endif]>
Geoff Wallis
<![if !supportEmptyParas]> <![endif]>
22nd December, 2004
<![if !supportEmptyParas]> <![endif]>
---
<![if !supportEmptyParas]> <![endif]>
The album is available directly from Steve whose website is mysite.wanadoo-members.co.uk/trad_irish_harmonica (bet youíre glad you didnít have to type all of that!).
<![if !supportEmptyParas]> <![endif]>
---
<![if !supportEmptyParas]> <![endif]>
<![if !supportEmptyParas]> <![endif]>
<![if !supportEmptyParas]> <![endif]>