Steampacket
<![if !supportEmptyParas]> <![endif]>
Homecoming
<![if !supportEmptyParas]> <![endif]>
Leiselaut LLCD 1-003; 55 minutes; 2004
<![if !supportEmptyParas]> <![endif]>
<![if !supportEmptyParas]> <![endif]>
Mention the name Steampacket to any UK rock fan of a certain vintage and you'll almost certainly conjure up images of the 1960s blues-rock band which featured Long John Baldry and Rod Stewart. Now, forget that entirely and imagine instead a five-piece traditional music band that just happens to come from Germany. <![if !vml]>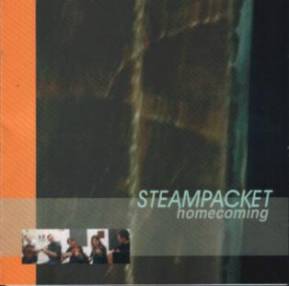 <![endif]>
<![if !supportEmptyParas]> <![endif]>
The fivesome are just about identifiable in the rather blurred picture which appears on the liner cover opposite and are, left to right, the bodhrán player Rolf Wagels, flute player Claus Steinort, fiddlers Stephan Schneider and Tina Fastje and, lastly, guitarist and bass player Andreas Lassak. The group has apparently been around since 1999 and this is its debut album, although it was recorded as long ago as the period from November 2001 to March 2002.
<![if !supportEmptyParas]> <![endif]>
Rolf is a regular at the Frankie Kennedy Winter School and often in Donegal at other times too while, as Tola Custy recounts in his liner notes, Claus spent some time in County Clare. Perusing the tune notes, however, reveals a very broad range of sources for the tunes which appear on Homecoming, from the Shetland-based band Fiddlers' Bid, via the Mancunian piper David Lim and a set of Finnish polkas, to Josephine Keegan and Garry Shannon, plus a bevy of tunes composed by German musicians, including a rather fetching 5/4 time Anna's Song, composed by Stephan.
<![if !supportEmptyParas]> <![endif]>
'Comparisons are odious', John Donne noted, though Shakespeare had it as 'odorous' in Much Ado About Nothing. So, it might seem a little unfair to begin discussing Steampacket's affinity to Lúnasa, but necessary, if only to forget about the idea rapidly after doing so. That there is such a connection is largely the product of the instrumental line-up, the combination of fiddle and flute, plus, of course, the presence of the bass, but also one engendered by the overall mood of Homecoming.
<![if !supportEmptyParas]> <![endif]>
Like Lúnasa, Steampacket have produced an all-instrumental album and one which contains many atmospheric changes, but Homecoming, while perhaps offering a nod to the Irish band, is very much an individual piece of work. There's a refreshing intimacy here, not least on the set of tunes kicked off by Fahy's and followed by the late Fiach O'Broin's The Umbilical Cord and Michael Hynes's Farewell to Philip Lane. Added to that is an enduring sense of a quintet of musicians in love with Ireland's music and eager to transmit that joy to others.
<![if !supportEmptyParas]> <![endif]>
No more so is this evident than on the seventh track, a set called High Noon, which commences with a startlingly witty solo fiddle rendition of The Stage hornpipe, followed by gloriously perky versions of the reels The High Noon Killer and The Kerry Lasses (and if anyone doubts the value of a bodhrán in an ensemble setting, they should listen to Rolf's marvellous exploration of the instrument's capabilities on these tunes). Andreas, too, is a devilish guitar player and his playing on Brian's (described simply as 'slow tune') reveals a remarkable finesse, added to which the fiddles supply a feeling akin to that intrinsic in the playing of Mary Custy and Stephen Flaherty on After 10:30. There's an element too of the playing of Peter Horan and Fred Finn whenever Claus links up with the fiddlers – a sense of purpose, but in no rush to get there.
<![if !supportEmptyParas]> <![endif]>
Hugely enjoyable, often challenging, other times just plain good fun, Homecoming is an album definitely worth acquiring.
<![if !supportEmptyParas]> <![endif]>
<![if !supportEmptyParas]> <![endif]>
Geoff Wallis
<![if !supportEmptyParas]> <![endif]>
26th May, 2004
<![if !supportEmptyParas]> <![endif]>
---
<![if !supportEmptyParas]> <![endif]>
For more information about Steampacket visit www.steampacket.de.
<![if !supportEmptyParas]> <![endif]>
---
<![if !supportEmptyParas]> <![endif]>
<![if !supportEmptyParas]> <![endif]>
<![if !supportEmptyParas]> <![endif]>
<![if !supportEmptyParas]> <![endif]>