Séamus Tansey
Words and Music: The Phantom Shadows of a Connaught Firelight
Tanbar Recordings - no catalogue number; 3 CDs; 190 minutes; 2001
Love him or loathe him (and it is possible to hold both these sentiments simultaneously), it is hard to imagine anyone in Ireland, other than Séamus Tansey, who might have conceived this sprawling, epic project. Undoubtedly bearing the most garish cover ever to have featured on a traditional album, ominously featuring a Phoenix-like Tansey arising from the flames, Phantom Shadows is more than three hours long and spans three compact discs. <![if !vml]>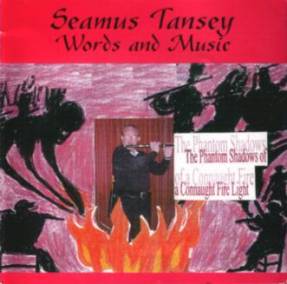 <![endif]>
Whereas the recent Michael Gorman release, The Sligo Champion, aims to be 'a musical biography', this blends a multitude of Tansey's reminiscences and his staunchly atavistic Nationalism to form an aural autobiography spanning his boyhood years. Its origins lie in a concert tour from a few years back, featuring accordionist Tony Mac Mahon, the singer Iarla Ó Lionáird and piper Seán MacKeirnan, when, in Séamus's own words:
From the word go, the tour showed all the hallmarks of being doomed to failure because of personality clashes between the three artists aforementioned. I being the only unaffected found myself ironically, and hilariously enough, the peacemaker in the face of the real possibility of the tour breaking up in disorder and all of us returning to our homes, blacklisted and penalised for breach of contract.
As we drove from one concert venue to another, often in tension-packed silence, I whiled away the hours by feeding them large doses of anecdotes, funny stories and a general mixture of Gurteen parochial bullshit that, for me, could be heard in any parish in Ireland.
These stories were sometimes sad, even manic depressive, other times uproariously funny and hilarious - anything to keep them laughing. Unwittingly, I was telling them my own life story, unearthing events, people, a rural terrain, which for better or worse moulded me into a child, a man, a musician and character.
Those unaware of Tansey's reputation, referred to 'ironically' above, might be best served by the simple word 'contrary'. One of the foremost and finest flute players in the pure tradition of his native Sligo, Séamus, who was born in 1943, came to prominence after winning the All-Ireland title in 1965 and Seán Ó Riada's special radio Fleadh Cheoil the same year. He recorded prolifically in the 1970s for a variety of labels, but then followed a lengthy hiatus before the release of Easter Snow in 1997 and To Hell with the Begrudgers (with the Antrim fiddler Jim McKillop) in 1998. Though spending the first twenty or so years of his life in County Sligo, for many years Séamus has been based in County Armagh. Never afraid to champion his beliefs in the core principles of the tradition and those who fought to ensure the music's survival against the long odds of deprivation and emigration, Tansey has never feared speaking his mind even though some of his political views might strike some as off the wall.
Intriguingly, the project finally emerged glaring into the light thanks to the support of two other mavericks. The aforementioned Tony Mac Mahon offered encouragement which Séamus paraphrases as "...stop vegetating in Craigavon, living off the queen, and do something with your life before you kick the bucket, you lazy bastard." The other is a man Tansey has often championed, the dancer and flute-player, Michael Flatley (whose familial roots lie in Sligo), while he also pays tribute to the support of two well-known Dublin publicans (Tom Mulligan of The Cobblestone) and Ned O'Shea (of The Merchant).
Reviewing such a lengthy project can, of course, only provide a mere soupçon of its contents. Tansey's narration dominates the proceedings, his tales of growing up in a musical environment delivered with all the warmth of the fireside he effectively evokes (sometimes even the sound of the crackling fire itself can be heard in the background). Unquestionably, a skilled raconteur, Séamus's stories range across the gamut of his childhood emotional experiences, successfully suggesting a wide-eyed bemusement at some of the events taking place around him while never allowing hindsight to impose its own perfections. Some of his stories are hilarious, especially his description of the supposed equine characteristics of a fellow musician or an account of his own assault by a nun who objected to his playing. Indeed, at times, Tansey's language shares all the subtlety and intricate metaphors of a poetic genius. However, at other times, he drifts somewhat too easily into mawkishness, calling upon images hackneyed through over-familiarity, especially his account of the War of Independence.
Certain narrative motifs also reappear, not least the image of the Wren Boys as a conceptual device to compare past and present Ireland nor young men sitting around the fireside contemplating the grim future of emigration. Yet, surprisingly, the overall impact fails to be undermined across the excellent first disc and the slightly less coherent second, although it is true to say that this may not apply to the third disc, entitled Memories of Boyhood, where following Tansey's narrative trail becomes rather arduous.
All this is punctuated and, more often, illustrated by some marvellous music with Tansey demonstrating his glorious, joyous musical abilities on both tin whistle and flute (unusually, for these times, often unaccompanied). Many of the tunes originate from his local Sligo repertoire and, although he sometimes provides his own piano accompaniment, the most dominant other instrument is the bodhrán, played in the old-fashioned hand-beaten style.
Whether Séamus's singing, a rather sonorous affair, is also likely to be to the listener's taste is questionable. Though well-used as a metaphor for hegemonic bad taste, sadly, the music hall drollery of Barney Google with the Googley Googley Eyes (with horrendous artificial percussion) is a monstrous aberration. Séamus makes his point well enough without having to inflict the song on our ears.
Running through this review is the implicit feeling that Phantom Shadows is an endeavour whose impact would have been accentuated by editorial intervention. Unfortunately, this also applies to the liner notes which are riddled with typographical errors to the extent that one suspects proof-reading might have been forgotten. Being Séamus, he cannot resist having a dig at the record companies which rejected the project, though his sideswipe is undermined by misspelling three of them. This casualness is also present in the track listings which are sometimes impossible to follow, wavering between extreme brevity, e.g., 'Narration (1.34)', to lengthy lists such as this (printed here exactly as it appears):
12. Flute with bodhrán backing - reel
The Rainy Day flute 3/4 - bodhrán back-
ing reel The New Policeman
Tin Whistle Solo
Bodhrán backing
Jig:
A poem by Brendan Connalley
Bodhrán Backing
The Little Eagle-Conquering Wren
3/4 Flute solo backed by Bodhrán
Jigs: the Battering Ram
Tatter Jack Walsh (10.39)
Similarly some tune and song titles verge on the bizarre. Charism The Ladies is, perhaps, easy to guess (unless Séamus is making a point about domestic labour), but Fasten the Wagging a Hip on the Mountain offers room for investigation. Unless one's familiar with the song, The Boys of Barr Na Stráide, Tansey's listing of The Boys of Bar and Straws offers no help at all. Perhaps, however, all of this is simply a bit of mischief from Séamus.
Lastly, in these times of soaring CD prices and despite misgivings expressed above, this has to be one of the best value packages issued lately and worth every penny of its selling price of twenty Irish quid. Indeed, it's worth the lot just to hear the best tale on the album which ranges across Tansey's nascent whistling skills, the prevalence of false teeth amongst the Irish nation, variations in personal styles of potato eating and a certain character called 'Tom the Weasel', a man 'who hated all sorts of music'.
---
This review by Geoff Wallis was originally written for Musical Traditions – www.mustrad.org.uk.
This CD was available directly from Tanbar Recordings whose website has subsequently disappeared. Any information would be very welcome.
---
<![if !supportEmptyParas]> <![endif]>