Séamus Tansey
–
Jigs, Reels and Airs
<![if !supportEmptyParas]> <![endif]>
The Coleman Country Céilí Band
<![if !supportEmptyParas]> <![endif]>
GTD Heritage HSMCD 028-020; 76minutes; 1993
<![if !supportEmptyParas]> <![endif]>
Now here's a real bargain, consisting of two classic albums on one CD, amounting to more than 76 minutes of music. The CD is dated 1993, but the originals come from around 1980, a time when Séamus Tansey's music was in full bloom. Like his near contemporary, Tommy Peoples (though it's hard to imagine two more different characters), Tansey has not always been best served by record companies and, on one level, this release is no exception. To say that the liner notes are sparse is akin to asserting the location of a bear's toilet habits. In this case, all you get for your money is a list of the personnel appearing on each album, details of the producer and engineer and the track listing which includes the usual misprints (e.g. Patsy Toughy's), oddities (there really can't be a tune called The Frost is All Over Paddy O'Brien's unless the late accordionist lived in an especially significant location meteorologically) and peculiar translations (Craib Tú ar an Garric cannot possibly be 'The Mass Rock'). <![if !vml]>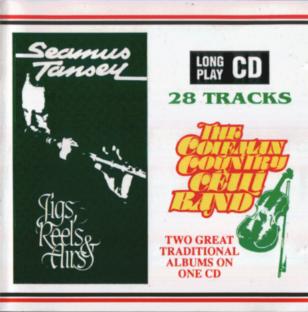 <![endif]>
<![if !supportEmptyParas]> <![endif]>
But let these issues be no hindrance, for what you get for your money is some absolutely sumptuous playing from Tansey. His rendition of An Buachaill Caol Dubh is simply unsurpassable for sheer lyricism while the pair of jigs, Michael Coleman's Favourite and Gillen's Apples, should be an object lesson to aspiring flute-players. For most of the album, Séamus is accompanied by the redoubtable Mary Mulholland on piano and his old sparring partner Alphie Dineen appears for an invigorating accordion duet on Farewell to Gurteen and, a little strangely, considering it's Tansey's album, two accordion solos of his own.
<![if !supportEmptyParas]> <![endif]>
Dineen led the renowned Coleman Country Céilí Band which also featured the aforementioned Mary Mulholland alongside Paddy Sweeney (banjo), Séamus Horan (fiddle), John Watters (drums) and Mr. Tansey himself. The opening track, The Mountain Top/Shaskeen, is quite frankly a mess, since the rhythm and melodic sections seem to be heading in different directions, but somehow contrive to finish at the same time. Nevertheless, The Bucks of Oranmore sees them cranking into gear and the rest of the album is a rather joyful romp through a selection of nowadays very familiar tunes – in fact, the pairing of Cregg's Pipes and The Navy's Farewell will be very familiar if you've already listened to the Tansey album, since they appear there also, albeit in alternative order.
<![if !supportEmptyParas]> <![endif]>
I'm not sure whether GTD Heritage still exists, but Claddagh had copies of this album the last time I was in Dublin. (A later note from Kevin Krell revealed that GTD does still operate.)
---
<![if !supportEmptyParas]> <![endif]>
Reviewed by Geoff Wallis for Musical Traditions magazine – www.mustrad.org.uk.
<![if !supportEmptyParas]> <![endif]>
---
<![if !supportEmptyParas]> <![endif]>
<![if !supportEmptyParas]> <![endif]>
<![if !supportEmptyParas]> <![endif]>