Téada
<![if !supportEmptyParas]> <![endif]>
Inné Amárach
<![if !supportEmptyParas]> <![endif]>
Gael Linn CEFCD 188; 45 minutes; 2006
<![if !supportEmptyParas]> <![endif]>
<![if !supportEmptyParas]> <![endif]>
Since its inception the music of the Irish traditional band Téada has always paid a healthy respect to its heritage while looking firmly towards the future, a Janus-like stance incorporated into the title of their third album which translates as 'Yesterday Tomorrow'. To enhance said standpoint Inné Amárach comes complete with a DVD documentary on the music of County Sligo where the band's flute player, Damien Stenson, was born and its fiddler, Oisín Mac Diarmada, has lived since moving from Clare as a child. The DVD features not only his fiddle teacher, the renowned Paddy Ryan, but one of the county's greatest musicians, the flute and fiddler Peter Horan, as well as paying homage to past luminaries such as Michael Coleman and the McDonagh brothers. <![if !vml]>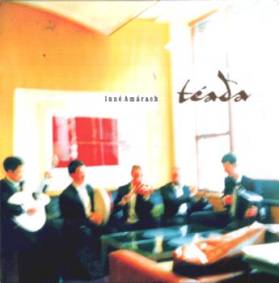 <![endif]>
<![if !supportEmptyParas]> <![endif]>
Inné Amárach is Stenson's first album with the band and he provides a lively foil to Mac Diarmada's bow, but one of two notable transformations is the increasing role of accordionist Paul Finn, especially on the jaunty reel Sarah's Delight. That tune neatly leads seamlessly into another reel, Paddy Seán Nancy's, which firmly illustrates the flowering of the flute/fiddle combination and the subtle backing provided by guitarist Seán McElwain and Tristan Rosenstock's bodhrán. The other major change is the absence of any songs, something which may please those who struggled to enjoy Oisín's somewhat sonorous vocals.
<![if !supportEmptyParas]> <![endif]>
When Téada are flying (as on a set of single jigs featuring superb banjo-plucking from McElwain) they offer much at which to marvel. However, on occasion, the band can feel remarkably laboured (viz. the dirge-like rendition of Nóra Críona), a factor which an outside producer might have eradicated.
---
<![if !supportEmptyParas]> <![endif]>
This review by Geoff Wallis originally appeared in Songlines magazine – www.songlines.co.uk.
<![if !supportEmptyParas]> <![endif]>
---
<![if !supportEmptyParas]> <![endif]>