The Clare Set
<![if !supportEmptyParas]> <![endif]>
Free Reed AnClar 06; 6 CDs; 2007
<![if !supportEmptyParas]> <![endif]>
This boxed set consists of reissues of the following albums, all with additional previously unreleased tracks, new covers and extensive liner notes, though bear in mind that there is some replication of the latter in each CD;
<![if !supportEmptyParas]> <![endif]>
The Russell Family of Doolin, County Clare

; FCLAR 01; 56 min

Bernard O'Sullivan & Tommy McMahon – Clare Concertinas; FCLAR 02; 70 min

Chris Droney – The Flowing Tide; FCLAR 03; 58 min;

John Kelly – Irish Traditional Fiddle and Concertina Music; FCLAR 04; 70 min

Tommy McMahon & Bernard O'Sullivan – Irish Traditional Concertina Music of Co. Clare; FCLAR 05; 75 min;

Various – Irish Traditional Concertina Styles; FCLAR 06; 60 min

<![if !supportEmptyParas]> <![endif]>

<![if !supportEmptyParas]> <![endif]>

No other part of Ireland or perhaps any area of the world is so closely associated with the concertina than the western seaboard county of Clare. The reason for this local predilection for the instrument (and it's the Anglo-German version which predominates there) is a matter for some conjecture, though perhaps the most plausible is that members of the regiment known as the Clare (or Clare's) Dragoons brought examples of the instrument back with them from campaigns in middle Europe in the mid-nineteenth century. This would certainly explain why, even within the county itself, the instrument is even more predominant in the southwest which was the base of the regiment's then recruiting officer.

<![if !supportEmptyParas]> <![endif]>

<![if !vml]>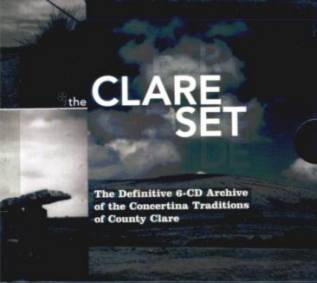 <![endif]>Whatever the case, there's no doubting that the concertina 'is' Clare's instrument of choice and these six CDs (originally released as part of collaboration between the Free Reed and Topic labels between 1975 and 1977) provide more than ample evidence of its exponents' abilities – a factor reinforced by the absence of any accompaniment of the kind now usually associated with Irish traditional recordings.
<![if !supportEmptyParas]> <![endif]>
Each sextuplet is graced by previously unreleased recordings from the archives, as well as detailed biographical and tune notes, and in toto provides some six hours of sheer enjoyment. All can be purchased separately, but their whole represents a unique opportunity to immerse oneself in the musical repertoire and range of instrumental skills present in the Clare of thirty years ago. Of these, the best introduction is the compilation Irish Traditional Concertina Styles, but for the sheer joy of two concertinas pushing and drawing in unison there's nothing better than the two albums included in the set recorded by the farmers Tommy McMahon and Bernard O'Sullivan.
<![if !supportEmptyParas]> <![endif]>
Added to these are three other delights: the dynamic and ever dance-oriented playing of Chris Droney from Bell Harbour in the very north of the county; the ebullient John Kelly from Loop Head in its far southwest (one of the key figures in the revival of interest in Irish traditional music) and a fine fiddler too; and the three bachelor farming brothers whose musical talents put Doolin on Europe's musical map (Micho, Gussie and Pakie Russell), though this particular CD is also heavy on the whistle and songs.
<![if !supportEmptyParas]> <![endif]>
Boxed sets can be major investments, but this is one that will repay your outlay for many years to come.
<![if !supportEmptyParas]> <![endif]>
---
<![if !supportEmptyParas]> <![endif]>
This review by Geoff Wallis first appeared in Songlines magazine.
<![if !supportEmptyParas]> <![endif]>
For more information about Free Reed visit www.free-reed.co.uk.
<![if !supportEmptyParas]> <![endif]>
---
<![if !supportEmptyParas]> <![endif]>
<![if !supportEmptyParas]> <![endif]>
<![if !supportEmptyParas]> <![endif]>
<![if !supportEmptyParas]> <![endif]>