The McCarthys
<![if !supportEmptyParas]> <![endif]>
The Family Album
<![if !supportEmptyParas]> <![endif]>
Maree Music MMC CD54; 67 min, 2002
<![if !supportEmptyParas]> <![endif]>
There are some small labels whose very ethos is the quality of their recordings and one such is unquestionably the Galway-based Maree Music. Essentially a family label, the company's three previous releases were all diamonds – the late and inimitable Clare man Tommy McCarthy's 1997 solo album Sporting Nell, his daughter Jacqueline's The Hidden Note from 1999 and, earliest of all, The Wind Among the Reeds, recorded with her husband uilleann piper Tommy Keane in 1995.  <![if !vml]>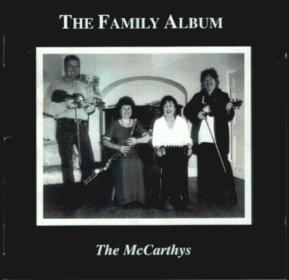 <![endif]>
<![if !supportEmptyParas]> <![endif]>
Now comes possibly the best yet, The Family Album bringing together all four of Tommy and Kathleen McCarthy's children (Jacqueline on concertina, Marion pipes and whistle, Bernadette fiddle and piano and Tommy junior on fiddle) with their respective spouses (Tommy Keane, whistler Johnny Giles, fiddler Henry Benagh and accordionist Louise Costello). As an added bonus there are two recordings of Tommy senior at his North London home made by Séamus MacMathúna for the CCÉ album Bonnie Kate in the 1960s and another recorded in London in 1985. Sadly, other than a personnel listing and the information that the tunes formed part of the repertoire of Tommy senior and two great influences on his music, Bobby Casey and Willie Clancy, there's no information on the tunes' sources, but in recompense there's an evocative selection of photographs and summative accounts of the music in general and the family background from fiddler James Kelly and Jacqueline McCarthy respectively.
<![if !supportEmptyParas]> <![endif]>
That said, this is a sumptuous collection and quite simply one of the best releases of Irish traditional music in the last ten years. Whether singly or in a variety of combinations the album is doubly redolent, first of the unhurried, joyous music of his native Clare with which the concertina player, whistler and piper Tommy inspired his children, and, secondly, of an essentially golden era in the history of Irish music in London. Whilst Tommy was himself a session regular in the city, he and his children, occasionally joined by Bobby Casey, would also perform as a family group and there's an utterly musical symbiosis on this album which can only be nurtured within a family or close relations. That the spouses are equally imbued by this music is pure indication of its strengths and undying qualities.
<![if !supportEmptyParas]> <![endif]>
Selecting highlights here is redundant. Like the best vegetable soups this has to be savoured for the quality of its constituents and the strength of its stock. There's an old saying that the family which plays together stays together and this is ample proof – an utterly essential addition to your collection.
<![if !supportEmptyParas]> <![endif]>
---
<![if !supportEmptyParas]> <![endif]>
This review by Geoff Wallis was originally written for Irish Music magazine.
<![if !supportEmptyParas]> <![endif]>
For more information about Maree Music visit www.iol.ie/~marmusic.
<![if !supportEmptyParas]> <![endif]>
---
<![if !supportEmptyParas]> <![endif]>