Martín Tourish & Luke Ward
<![if !supportEmptyParas]> <![endif]>
Clan Ranald
<![if !supportEmptyParas]> <![endif]>
Own label CR001; 57 minutes; 2005
<![if !supportEmptyParas]> <![endif]>
If one of the names seems familiar to followers of Irish music, indeed accordionist Martín Tourish is related to Altan's Ciarán of that ilk and, like his better known uncle, also hails from Donegal, though in this case it's the town of Ballybofey. Though himself born in Cavan, bouzouki player Luke Ward's father also came from Ballybofey, and unsurprisingly this sparkling debut album draws many of its influences from the northwest of Ireland, not least in the shape of the Donegal fiddle tradition.
<![if !supportEmptyParas]> <![endif]>
<![if !vml]>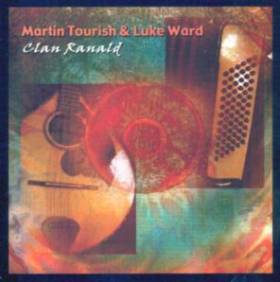 <![endif]>Effervescent and musically adroit musicianship thoroughly characterizes Clan Ranald and Martín's playing of the piano accordion, as opposed to the more commonly occurring button variety, will provide one in the eye for those who feel the instrument is unsuited to traditional music. Luke too offers a distinctive subtlety in his accompaniment, while the judicious employment of Stiofán Ó Brion's bodhrán and Terry McGinty's bass on selected tracks adds further depth.
<![if !supportEmptyParas]> <![endif]>
Then there's uncle Ciarán himself who appears for an inspiring set of tunes aptly entitled The Tourish Se', particularly as one of the melodies derives from another family member, Francie, and the others derive from the pens of Ciarán and Martín. Guitarist Steve Cooney also pops up for the breezy Ardara Sessions, while Martín's compositional skills are further to the fore on the delightful 'The Fortune Teller' and there's even time for a couple of step dancers to strut their stuff on Skitatoes.
<![if !supportEmptyParas]> <![endif]>
All told, Clan Ranald is enjoyment personified and marks Messrs. Tourish and Ward as two of Ireland's brightest musical talents.
<![if !supportEmptyParas]> <![endif]>
---
<![if !supportEmptyParas]> <![endif]>
This review by Geoff Wallis originally appeared in Songlines magazine – www.songlines.co.uk.
<![if !supportEmptyParas]> <![endif]>
For more information visit www.clanranald.com.
<![if !supportEmptyParas]> <![endif]>
---
<![if !supportEmptyParas]> <![endif]>