Trad Tráthnóna
<![if !supportEmptyParas]> <![endif]>
Tionscnamh Lugh, no number; 44 minutes; 1997
<![if !supportEmptyParas]> <![endif]>
Tráthnóna Eile
<![if !supportEmptyParas]> <![endif]>
Tionscnamh Lugh, no number; 70 minutes; 2002
<![if !supportEmptyParas]> <![endif]>
<![if !supportEmptyParas]> <![endif]>
Trad Tráthnóna is the title of a series of weekly evening ('trathnóna') concerts and sessions which takes place during the Summer months at Ionad Cois Locha (the Dunlewey Centre) under the shadow of Errigal Mountain in County Donegal.
<![if !supportEmptyParas]> <![endif]>
So far two live recordings have emerged from these events and both are devoted to musicians from the Cloughaneely, Gweedore and Rosses areas of the county. Both are very much a mixed bag of music, but, despite being significantly shorter in length, it is the first collection, Trad Tráthnóna, which bears repeated listening. 
<![if !supportEmptyParas]> <![endif]>
Despite Donegal being noted for the strength of its fiddle tradition, the album reminds us just how important songs and singing remain in the county. No fewer than nine of the album's twelve tracks are vocal and six of<![if !vml]>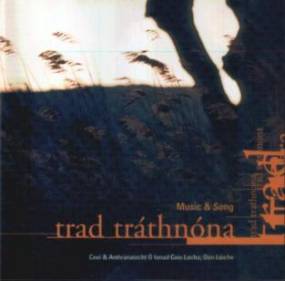 <![endif]> these focus attention on the Irish language tradition. The exceptions include Ian Smith's The Rocks of Bawn, which, over the years has become very much a centrepiece of the singer-guitarist's stage performances, both solo and with fiddler Stephen Campbell. The other two are The Water is Wide from the duo of Anne and Tony Croke and an impassioned rendition of The Wind That Shakes the Barley from Neidí Ó Gallchóir (who appears in full Ancient Order of Hibernians regalia in a photograph in the liner).
<![if !supportEmptyParas]> <![endif]>
With the exception of Aoife Ní Fhearraigh's somewhat Clannad-esque delivery of the lament Tá mo chleamhnas a dhéanamh, most of the song tracks on the album reflect what the listener is likely to hear at a session in Annagry, Bunbeg, Gortahork or further afield in the county – indeed, this reviewer pleasurably remembers a duet between Anna (Áine) Ní Mhaonaigh and her sister Mairéad in Teelin – the pair sing Bríd Bhán together here. However, the undoubted stand-out vocal track is Gearóidín Breathnach's wonderful love song from Rannafast, Thíos i Iár an Ghleanna.
<![if !supportEmptyParas]> <![endif]>
So, bearing all the above in mind, there are relatively few instrumental tracks. However, the opening set of reels is a gem and features a triumvirate of fiddlers – Stephen Campbell, Hugh Ó Gallchóir (the famous Húdai Beag) and Paula Doohan. There's also a wonderful feast of whistling from Joe Mhicí Jimmí Mac Grianna and a splendid duet from the fiddle-guitar duo of Francie and Gearóid Ó Maonaigh. 
<![if !supportEmptyParas]> <![endif]>
Contrastingly, Tráthnóna Eile ('another evening'), is a significant disappointment. Sure, the album kicks off with a tremendous set of self-composed reels from the young fiddler Theresa Kavanagh, but roughly half the recordings derive from the studio and, as a result, some of the spark is missing.  <![if !vml]>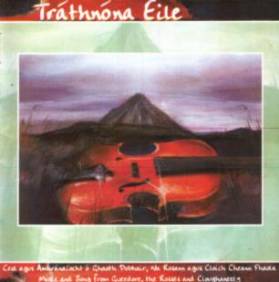 <![endif]>
<![if !supportEmptyParas]> <![endif]>
Those studio outings include another 'ethereal' venture from Aoife Ní Fhearraigh which, this time, veers heavily towards Capercaillie territory (unsurprising as the band's Mánus Lunny produced the album) and said Lunny's equally stupefying solo track. Coinnleach Ghlas an Fhómair, which sounds like a Celtus out-take. The same layers-of-sound effect is also applied to Aodh Mac Ruairí's Cumhaidh an Fhile. Fortunately, other songs are more rewarding and include Charlie Diver's utterly straight-up rendition of the song Bádaí na Scadán and a very pleasant unison rendition of Thíos i d'Teach an Tórraimh by Gearóidín Breathnach's twin daughters Sinéad and Deirdre. Young Dominic Mac Ghiolla Bhríde is also on sparkling form with An Droighnéan Donn.
<![if !supportEmptyParas]> <![endif]>
Again, there are just a few instrumental tracks. The best of these is certainly a duet between the then 16-year-old Ciarán Ó Maonaigh and Stephen Campbell on Kitty in the Lane, Pigeon on the Gate and Jenny Picking Cockles, but even this suffers from some Seán McGuire-type changes of mood and rhythm.
<![if !supportEmptyParas]> <![endif]>
Geoff Wallis
<![if !supportEmptyParas]> <![endif]>
20th September, 2004
---
<![if !supportEmptyParas]> <![endif]>
Both albums are available directly from Tionscnamh Lugh, 22 Carraig an tSeascáin, Doire Beaga, Tír Chonaill.
<![if !supportEmptyParas]> <![endif]>
---
<![if !supportEmptyParas]> <![endif]>
<![if !supportEmptyParas]> <![endif]>