Toss the Fiddles
The Philadelphia CťilŪ Groupís 27th Annual Festival of Irish Music and Dance
<![if !supportEmptyParas]> <![endif]>
Own label Ė no number; 64 minutes; 2002
<![if !supportEmptyParas]> <![endif]>
Rummaging through that section of my CD collection that houses compilation albums the other day I encountered this album and, reflecting on its provenance, could neither recall ever visiting Philadelphia (and Iím sure I would) nor the exact location where I had purchased the CD. So I guess the album must have been delivered by the CD fairies. Stick a tooth under your pillow when your six and next morning discover a newly arrived sixpence (or, inflation considered, 5p). Do it when youíre, how best to put it, in the prime of life and a CD (or a request for urgent funding from a relative of the Nigerian Minister of Commerce) is probably the result. <![if !vml]>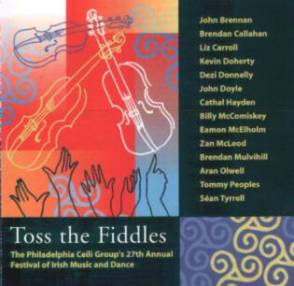 <![endif]>
<![if !supportEmptyParas]> <![endif]>
No matter its origins, this album is an absolute delight and features half a dozen fiddlers and their accompanists recorded during the festival which took place in Fairmount Park, Philadelphia on the 8th September.
<![if !supportEmptyParas]> <![endif]>
Unusually, the albumís producers have adhered to the festivalís running order in organising their selection of extracts. However, sadly, their CDís liner booklet provides absolutely no details about the musicians appearing at the concert nor the tunes they played, but instead devotes almost an entire page of its limited two-sheet spread to acknowledgements. Obviously, itís far more important to thank Paula & Jo Wholey than provide information about the fiddlers appearing on the album. Sure, five of the six are well known, but some information about the other, Brendan Callahan, might have been useful. And, while the compilers were composing their felicitations that they might also have proofed the tune titles listed.
<![if !supportEmptyParas]> <![endif]>
Anyway, for your money, should this CD still be available, the musicians on offer, in addition to the aforementioned Brendan Callahan, provide a reasonable synopsis of the state of Irish fiddling, as presented to a concert audience, in 2001. Dezi Donnelly is as raw and rugged as one might expect, but enjoyment of Tommy Peoples is debilitated by some woefully over-elaborate guitar accompaniment from SeŠn Tyrrell. Brendan Mulvihill zips rhythmically along in partnership with accordionist Billy McComiskey while Cathal Haydenís fiddle is as resonant as ever on The Home Ruler (and his compadre from Four Men and a Dog, Kevin Doherty, knows exactly how to understate accompaniment Ė pay attention Mr Tyrrell!).
<![if !supportEmptyParas]> <![endif]>
Lastly, thereís Liz Carroll and thus, Iím afraid to announce, I must reach a watershed. I certainly appreciate Lizís skill (and guitarists should also pay heed to the work of her accompanist, John Doyle, here), but her playing has never failed to underwhelm me. Sure, I can appreciate the twists and turns of her tunes, but Iíve never been able to spot the slightest glimmer of passion. This is a very personal opinion, so please donít write in to berate me for my failure.
<![if !supportEmptyParas]> <![endif]>
Geoff Wallis
<![if !supportEmptyParas]> <![endif]>
12th April, 2006
<![if !supportEmptyParas]> <![endif]>
---
<![if !supportEmptyParas]> <![endif]>
Check www.philadelphiaceiligroup.org for more information about this album.
<![if !supportEmptyParas]> <![endif]>
---
<![if !supportEmptyParas]> <![endif]>