The Very Best of Celtic
<![if !supportEmptyParas]> <![endif]>
Nascente NSCDD 2013; 2 CDs; 121 minutes; 2004
<![if !supportEmptyParas]> <![endif]>
<![if !supportEmptyParas]> <![endif]>
Like its stable mate Music Club, Nascente is a label specializing in budget-priced compilations, most notably through its 'Beginner's Guide' and 'The Very Best of' series. A budget label which is actually a subsidiary of a larger conglomerate (e.g. BMG, EMI, Sony or Universal) can thereby draw upon extensive back catalogues. Unfortunately, Nascente is part of the Demon Music Group whose previous output has not been notable for its wealth of 'Celtic' material, so it has been forced to rely on negotiating licensing deals with other labels.  <![if !vml]>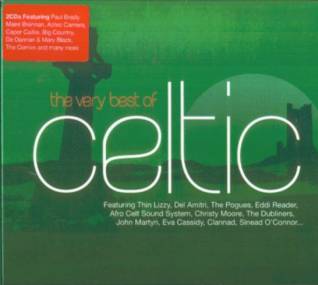 <![endif]>
<![if !supportEmptyParas]> <![endif]>
This explains why the two discs forming The Very Best of Celtic, themed as 'Celtic Pop' and 'Celtic Tradition', are notable for the number of absentees. So purchasers expecting to find, for instance, The Chieftains, Van Morrison or The Corrs will be disappointed. That being said, the Irish musicians featured here include The Dubliners, Cara Dillon, Sharon Shannon, Clannad, Christy Moore, The Fureys, De Dannan with Mary Black, Tommy Sands, Altan, Paul Brady, Máire Brennan, The Pogues, Sinéad O'Connor, Cherish the Ladies and Thin Lizzy while the remainder includes the likes of Runrig, Capercaillie and John Martyn.
<![if !supportEmptyParas]> <![endif]>
The album's assembler, Colin Irwin, has laudably managed mainly to avoid previously over-compiled material (with the exception perhaps of The Dubliners' Black Velvet Band or Thin Lizzy's Whiskey in the Jar). However, the most startling omission is the absence of any instrumental tracks which entails that The Very Best of Celtic is an entirely vocal collection. Additionally, the inclusion of the Scottish rock bands Aztec Camera and Del Amitri seems to only be based upon their Caledonian identity rather than any adherence to a 'Celtic' idiom (whatever that might be). Then there's Eva Cassidy singing Sting's Fields of Gold and the Blessed Sínead's Mandinka, but, thankfully, not Paddy Reilly singing The Fields of Athenry.
<![if !supportEmptyParas]> <![endif]>
Geoff Wallis
<![if !supportEmptyParas]> <![endif]>
10th December, 2004
<![if !supportEmptyParas]> <![endif]>
---
<![if !supportEmptyParas]> <![endif]>
Click here for more information about Nascente.
<![if !supportEmptyParas]> <![endif]>
---
<![if !supportEmptyParas]> <![endif]>
<![if !supportEmptyParas]> <![endif]>