Wooden Flute Obsession 2
<![if !supportEmptyParas]> <![endif]>
International Traditional Music Society ITMS0401; 2 CDs; 141 minutes; 2004
<![if !supportEmptyParas]> <![endif]>
Attempting to repeat a successful formula is a risky business and thus it proves with Wooden Flute Obsession 2, the follow-up to 2002's very original compilation of Irish traditional and traditionally inspired music played on wooden keyed and keyless flutes. <![if !vml]>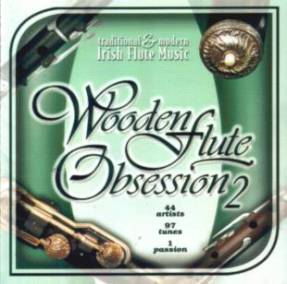 <![endif]>
<![if !supportEmptyParas]> <![endif]>
There simply is not a limitless supply of top-notch flute players and most of the current cream of the crop figured on WFO's first volume. Fortunately, several more are included on this new collection (such as Gary Hastings, Peter Horan, Kevin Henry, Michael Tubridy, Tara Diamond, Kevin Crawford and Desi Wilkinson), but there are far too many unknown quantities, a featured not aided by the absence of even basic biographies in the liner notes (for that one has to head to the confusing morass of www.worldtrad.org).
<![if !supportEmptyParas]> <![endif]>
Additionally, some of the recordings are rather ropey – Damon Stenson's track is ruined by the sound of his embouchure – and the accompaniment often slips below even a middling quality. Lúnasa's Kevin Crawford appears to be supported by a tin bouzouki while Mike McHale and his guitarist seem to be playing in different keys. In fact, from the over-percussive intro of Brendyn Montgomery's The Roscommon Reel to the pea soup backing on Justin Murphy's set of jigs, WFO2 might serve as an object lesson for budding accompanists on how not to supplement this most lyrical of instruments.
<![if !supportEmptyParas]> <![endif]>
Sure, there is plenty of decent music on this double album (Desi Wilkinson's elegiac My Lagan Love and a sparkling pair of hornpipes from Peter Horan, for instance), but WFO2 is very much a case of a pint being diluted to fill a quart pot.
---
<![if !supportEmptyParas]> <![endif]>
This review by Geoff Wallis was written for Songlines magazine – www.songlines.co.uk – and more details about the album can be found at www.worldtrad.org.
<![if !supportEmptyParas]> <![endif]>
---
<![if !supportEmptyParas]> <![endif]>
<![if !supportEmptyParas]> <![endif]>
<![if !supportEmptyParas]> <![endif]>