Cora Smyth Breda Smyth
<![if !supportEmptyParas]> <![endif]>
Own label CSBS01; 39 minutes; 2005
<![if !supportEmptyParas]> <![endif]>
If ever an album set out its stall in the opening bars, then it's this self-titled debut as a duo by the sisters Cora and Breda Smyth. Its opening track, Winkles Waltz, consisting of Michel Faubert's Valse de Jouets and Charlie Lennon's The Handsome Young Maidens (an apposite tune considering what'll come later in this review), informs the listener right from the outset that this is not a typical traditional music album. Indeed, though there are plenty of traditional tunes, it's doubtful whether it could really be termed a 'traditional music album' at all. <![if !vml]>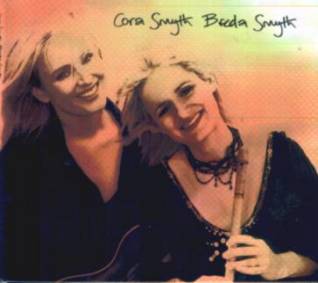 <![endif]>
<![if !supportEmptyParas]> <![endif]>
The reason for the above comment is simple. Fiddler Cora and whistler Breda have opted for a head-on, rock-oriented approach to their music which, at times, is reminiscent not only of Lúnasa's wilder moments (a band in which, of course, their elder brother Seán plays a key role), but of the Solas semi-electric album The Edge of Silence and of experimentalists such as the Afro Celts, Pierce Turner and even Moving Hearts.
<![if !supportEmptyParas]> <![endif]>
So expect plenty of syncopated guitar, bouzouki and bass (from the likes of Tim Edey, Brendan O'Regan and Damien Evans respectively) and more than a smidgeon of percussion (from Jim Higgins and, on one track only, drummer Declan O'Donohue).
<![if !supportEmptyParas]> <![endif]>
Does it work? Well, frankly, the answer is a resounding 'yes'. Indeed, one particular track, Martin Hayes' Maghera Mountains, with its somewhat spookily heavy drum and bass and portentous piano chords, chills this reviewer to the bone, for some reason reminds him of The Cure in their darkest moments, yet somehow drives him to hit the repeat button time and time again.
<![if !supportEmptyParas]> <![endif]>
There are lighter moments, most notably, Breda's sumptuous rendition of the old Stockton's Wing number, The Belltable (though she's on frankly evanescent form on the earlier Salamanca Set) while Cora's stand-out track is probably The Golden Stud where she contrives to seem like Eileen Ivers without ever losing a sense of either grace or sanity.
<![if !supportEmptyParas]> <![endif]>
Definitely not an album for reflective listening, but more one to accompany frenetic household activity, Cora Smyth Breda Smyth is a hugely enjoyable affair, except for one truly nauseating moment.
<![if !supportEmptyParas]> <![endif]>
It's all very well asking luminaries to supply liner notes or a few lines of commendation, but perhaps Michael Flatley was not the wisest choice. 'Cora and Breda are the cutest, sweetest and sexiest girls in the business', he writes and, at that moment the desire to track him down and stuff a copy of this album down his throat somehow becomes paramount. I don't know which century Flatley inhabits, but it certainly is not the twenty-first.
<![if !supportEmptyParas]> <![endif]>
---
<![if !supportEmptyParas]> <![endif]>
For more information about this album visit www.corasmythbredasmyth.com.
<![if !supportEmptyParas]> <![endif]>
---
<![if !supportEmptyParas]> <![endif]>
<![if !supportEmptyParas]> <![endif]>