Derek Warfield & The Young Wolfe Tones
<![if !supportEmptyParas]> <![endif]>
On the One Road
<![if !supportEmptyParas]> <![endif]>
Ceol Music – no number; 145 minutes; 2008
<![if !supportEmptyParas]> <![endif]>
The latest incarnation of the 'Provisional Wolfe Tones' sees the now sexagenarian co-founder of said rebel-rousing band surrounding himself with musicians at least half or more of his age. At the core of this thirty-eight track double-CD, lasting almost two and a half hours, is Warfield himself on vocals, Padraig Allen (of The Whole Shabang) who sings lead on twelve tracks and also provides guitar and bass, and Damaris Woods (banjo, mandolin and piano accordion) and her brother Jim (button accordion, bodhrán and backing vocals) of the band Cóisír. Augmenting this quartet is a veritable host of musicians, drawn from all over Ireland, such as Leitrim uilleann piper Pádraig McGovern, Cavan bouzouki/guitar player Luke Ward, Offaly uilleann piper Joe Finn, and Roscommon accordionist Séamus Shannon.
<![if !supportEmptyParas]> <![endif]>
<![if !vml]>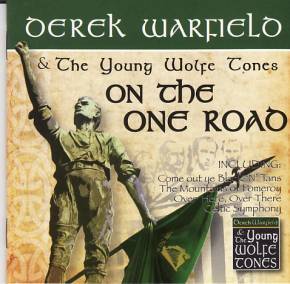 <![endif]>Nevertheless, like we're led to believe about Ronseal's products, this album is exactly what one has come to expect from Derek Warfield – an horrendous mish-mash of Republican ballads, songs from the broader Irish tradition (such as a murderous version of The Mountains of Pomeroy) often rendered either as oompah-bouncy singalongs or as if Irish music has not changed since the days of the Clancys, and dreadful cover versions (including one of The Band's The Night They Drove Old Dixie Down which should have Robbie Robertson rushing immediately to his attorney).
<![if !supportEmptyParas]> <![endif]>
Truth be told, the best songs on the album are all provided by Padriag Allen, though, verily too, many of these are reminiscent of the tearjerkers and power ballads favoured by contestants on the Irish version of The X-Factor. However, while the abilities of the musicians throughout this album cannot be doubted whether they are serving a justifiable cause, like Warfield himself, remains open to question.
<![if !supportEmptyParas]> <![endif]>
Geoff Wallis
<![if !supportEmptyParas]> <![endif]>
6th May, 2008
<![if !supportEmptyParas]> <![endif]>
---
<![if !supportEmptyParas]> <![endif]>
Derek Warfield's website is www.derekwarfield.com.
<![if !supportEmptyParas]> <![endif]>
---
<![if !supportEmptyParas]> <![endif]>
<![if !supportEmptyParas]> <![endif]>