Frankie Gavin
<![if !supportEmptyParas]> <![endif]>
2003-2004 Collection
<![if !supportEmptyParas]> <![endif]>
Own label – no number; 4CDs; 172 minutes; 2004
<![if !supportEmptyParas]> <![endif]>
With a title which instantly recalls those football stickers which young boys collected in the 1980s, this quadruple CD set doesn't so much suggest a series of releases as indicate the territory occupied by Frankie Gavin's heart and soul in 2003 – indeed all the tracks were apparently recorded in that year, so the existence of its subsequent in the title owes more to its date of release than any extended sequence. <![if !vml]>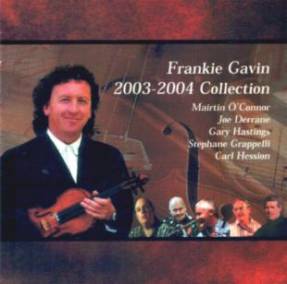 <![endif]>
<![if !supportEmptyParas]> <![endif]>
Cynics may once have suggested that De Dannan should have been renamed Four Men and a God, but this collection sees Frankie very much subsuming his numerous talents within a collective whole. However, anyone familiar with De Dannan's back catalogue will be well aware of the musician's reference points – the 78s recorded in the USA in the 1920s and 1930s, Turlough Carolan, Mozart and Handel, 'gypsy' jazz and reels played as fast as feasible (though there are no obvious Beatles references here).
<![if !supportEmptyParas]> <![endif]>
The four separate CDs might suggest differences in approach, but in fact reflect a singularity where speed is king and subtlety often defenestrated.
<![if !supportEmptyParas]> <![endif]>
So, CD #1, The Speed of Sound (apposite or what?), sees Frankie in cohort with accordionist Mairtín O'Connor, pianist Carl Hession (who remains a constant throughout all four discs) and the Galway String and Brass Ensemble whirling through a very familiar set of tunes at breakneck speed. Indeed Mairtín seems to have been fully imbued by the music of Joe Derrane, so it's really no surprise when the latter turns up as Frankie's partner on CD #2, recorded live at Ennis's Glór (and very much a precursor of Ireland's Harvest). Its mix of high velocity reels and jigs is all that one might expect from the pairing.
<![if !supportEmptyParas]> <![endif]>
CD #3 is the strangely titled Music for Peace which features Frankie and the flute player Gary Hastings, bizarrely described as having a 'knowledge of both Northern music and Traditional music as we know it' in the notes, as though the tunes played by the Orange bands were not somehow traditional. This CD supposedly introduces 'an outstanding collection of fife and lambeg drum music from County Antrim', yet features numerous tunes which would be very familiar to musicians throughout all of Ireland. Sure, there are exceptions such as Grange Orange Hall and The Maids of Ahoghill, but since when did Irish traditional music become a weapon for peace? Indeed, since the tradition is generally regarded by Loyalists as the Pope's nocturne and looked upon with as much distrust (or ignorance) as GAA results, the idea of these fourteen tracks somehow debilitating interface confrontation in Norn Iron is distinctly underwhelming (and neither Frankie nor Gary could have known at the time of recording that Ahoghill would become a major focus for Loyalist ethnic cleansing – so much for peace).
<![if !supportEmptyParas]> <![endif]>
The last CD is again recorded live, this time in Galway, although presumably by someone in the audience's front row wielding a cheaply-priced mike with an unsteady hand since the sound quality wavers so much and the overall recording is extravagantly tinny. Still, if you want to hear Stephane Grappelli and Gavin duetting on Danny Boy, this is definitely the one for you, though why Frankie's whistle rendition of Mná na hÉireann, complete with accompaniment so sugary it would intimidate diabetics, has been included is open to question.
<![if !supportEmptyParas]> <![endif]>
Of course, this being a Frankie Gavin collection (albeit almost three hours' worth), the musicianship is impeccable throughout, though the syrupy accompaniment and hackneyed arrangements are often hard to swallow. All told, and like a well-written but badly constructed novel, this package would have been much enhanced by incisive editing.
<![if !supportEmptyParas]> <![endif]>
Geoff Wallis
<![if !supportEmptyParas]> <![endif]>
30th September, 2005
<![if !supportEmptyParas]> <![endif]>
---
<![if !supportEmptyParas]> <![endif]>
No details about this collection's availability are provided by the notes or tray liner.
<![if !supportEmptyParas]> <![endif]>
---
<![if !supportEmptyParas]> <![endif]>
<![if !supportEmptyParas]> <![endif]>