Hammy Hamilton, Séamus Creagh, Con O'Drisceoil
<![if !supportEmptyParas]> <![endif]>
It's No Secret
<![if !supportEmptyParas]> <![endif]>
Ossian OSSCD 89; 51 minutes; 2001
<![if !supportEmptyParas]> <![endif]>
<![if !supportEmptyParas]> <![endif]>
<![if !vml]>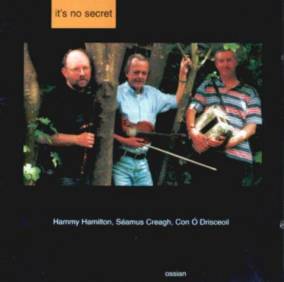 <![endif]>The Cork-based Ossian label seems virtually to have ceased releasing new albums and this is a substantial shame considering the sheer quality of one of its last releases, the sublime It's No Secret.  All three of the Cork-based musicians involved are well-known – Hammy Hamilton for his album The Moneymusk and the manufacturer of hand-made flutes, fiddler Séamus Creagh for his collaborations with Jackie Daly and Aidan Coffey (and his own solo album Came the Dawn), and accordionist Con Ó Drisceoil for his work with The Four Star Trio and the writing of splendidly comic songs, such as The Pool Song, recorded by Jimmy Crowley and The Dubliners – Con can also be heard duetting with the late Johnny O'Leary on another Ossian album, The County Bounds. Now, what is also worth remarking from the very onset is that all three participants in It's No Secret are also estimable singers, an aspect which enhances this album's qualities even further.
<![if !supportEmptyParas]> <![endif]>
Indeed, it let us begin with the songs. Since this trio clearly believes in equity, each member has two opportunities to impress. Hammy delivers The Sea Apprentice, learned from the singing of Joe Holmes, and Erin's Green Shore with considerable aplomb. Séamus offers a wondrous rendition of W.J. Rankine's In Praise of the City of Mullingar and, as a Westmeath man himself adopts exactly the precise tone of tongue-in-cheek-righteousness, and also offers The Plains of Drishane, written by Cornelius "The Poet" Ahern from Carrigthomas, near Ballinagree. Finally, there are two superbly comic self-compositions from Con. Of course, the true test of any comic song's qualities are whether it endures repeated listening. It can safely be avowed (as a result of such frequent hearing) that both The Spoons Murder (the tale of  the appropriate response to a session interloper) and King Lear, sung to the tune of Tatter Jack Walsh, fully vindicate Con's writing abilities. Take this section, for example:
<![if !supportEmptyParas]> <![endif]>
If that's not bad enough, that pathetic old jerk
Left himself without house, without income or perk;
The two vixens took all, and their Dad, the old dunce,
Was to lodge in their houses in alternate months.
These daughters of course were both nasty old shrews,
But in fairness King Lear gave them every excuse;
His boiled eggs were too hard and his gravy too thin,
Or he got too much tonic and not enough gin.
<![if !supportEmptyParas]> <![endif]>
Then, of course, there is the sheer and expected enjoyment of the instrumental tracks. Much is drawn from West Cork and, especially, the playing of Johnny O'Leary, but there are also tunes which display Hammy's Belfast past, such as The Cocktail (which he picked up from Cathal McConnell and Tommy Gunn – presumably at the time when the Gunns ran a boarding house near Botanic Avenue) and Mary MacMahon which he learnt from fellow flute-player. There's also a splendid duet between Con and Hammy on Ed Reavy's The Dances at Kinvara and Séamus displays all his customary relaxed virtuosity on another duet with Con, the set of slides Nicholas McAuliffe's/Barrack Hill. The trio, augmented by another Cork stalwart, Pat 'Herring' Aherne, on guitar, also close proceedings with resonant rendition of that classic tune Paddy Taylor leading into The Earl's Chair which, as Pat's liner notes observe, "often serves as a finale to a night of music". Indeed, Pat deserves to be thoroughly complimented on the excellence of his entire contribution.
<![if !supportEmptyParas]> <![endif]>
Ultimately, this is one of the most enjoyable albums of Irish traditional music and song to have been released in the last twenty years.
---
<![if !supportEmptyParas]> <![endif]>
This is a semi-original review by Geoff Wallis based on recollections of a previous review written for a printed magazine (whose identity cannot be remembered).
<![if !supportEmptyParas]> <![endif]>
For more details about Ossian click here.
<![if !supportEmptyParas]> <![endif]>
---
<![if !supportEmptyParas]> <![endif]>
<![if !supportEmptyParas]> <![endif]>
<![if !supportEmptyParas]> <![endif]>
<![if !supportEmptyParas]> <![endif]>