Mick McAuley & Winifred Horan
<![if !supportEmptyParas]> <![endif]>
Serenade
<![if !supportEmptyParas]> <![endif]>
Compass Records 7 4416 2; 52 minutes; 2006
<![if !supportEmptyParas]> <![endif]>
When members of a band record their own albums, there's often a sense of different currents at work. So it proves with Serenade, from the capable hands of Solas's accordionist Mick McAuley and fiddler Winifred Horan. Anyone familiar with the Irish-American band's recent albums such as Waiting for an Echo will be aware of its often energetic, though rarely <![if !vml]>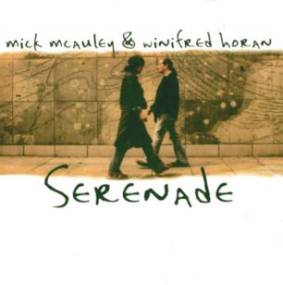 <![endif]>unsubtle approach to traditional music, but Serenade, as it's title might suggest, is a far more mellow affair.  
<![if !supportEmptyParas]> <![endif]>
Despite this difference in mood, Serenade still embodies that Solas feel, reinforced by the presence of the band's former guitarist Dónal Clancy and its regular guest bass-player Chico Huff. There are notable melodic similarities, not least in a characteristically quirky approach embodied by The Ballygar Jigs or in McAuley's own composition, the twisting title track itself. In contrast, Winifred's  two compositions, Little Mona Lisa and A Daisy in December, both sweet-sounding tunes, drift towards the soporific.
<![if !supportEmptyParas]> <![endif]>
Now Kilkenny's Mick McAuley is blessed with a mellifluous voice, as his solo album An Ocean's Breadth robustly proves, though he rarely gets a chance to sing with Solas (or play whistles, bodhrán, keyboards and guitar, as on Serenade). Yet the finest singer can often fall flat on his face when it comes to song choice or quality control in terms of arrangements. So it goes with a somewhat mawkish rendition of Adieu Sweet Lovely Nancy and an unlikely cover of  After the Gold Rush which, the notes admit, owes more to Dolly Parton than Neil Young  and lacks the Canadian's unequivocal sense of desperation. So, overall, here's an egg for the curate.
<![if !supportEmptyParas]> <![endif]>
---
<![if !supportEmptyParas]> <![endif]>
This review by Geoff Wallis originally appeared in Songlines  - www.songlines.co.uk.
<![if !supportEmptyParas]> <![endif]>
Click here for more information about Lúnasa or here to visit the webpages of Compass Records.
<![if !supportEmptyParas]> <![endif]>
---
<![if !supportEmptyParas]> <![endif]>
<![if !supportEmptyParas]> <![endif]>
<![if !supportEmptyParas]> <![endif]>
<![if !supportEmptyParas]> <![endif]>