Sharon Shannon and Big Band
<![if !supportEmptyParas]> <![endif]>
Live at Dolans
<![if !supportEmptyParas]> <![endif]>
The Daisy Label DLDV 01; 2006
<![if !supportEmptyParas]> <![endif]>
The release of last year's Tunes album (made with fiddler Frankie Gavin and flute-player Mike McGoldrick) seemed to herald a revitalization of the Clare-born accordionist Sharon's Shannon's career, presenting a rich tapestry of intricate musical interplay with the Irish tradition ever to the forefront. Sadly, Live at Dolans slips back into her wayward and stagnating past when CDs such as The Diamond Mountains Sessions and Libertango saw her in cahoots with a plethora of guest singers and musicians, becoming almost a guest on her own albums in the process. <![if !vml]>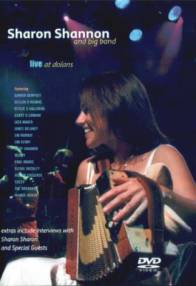 <![endif]>
<![if !supportEmptyParas]> <![endif]>
Indeed, Live at Dolans (available also as a double-CD from the same label – DLCD018) is actually a paler than pale shadow compared to those previous collaborations in which Sharon was at least able to call upon the talents of Steve Earle, Kirsty MacColl, Jackson Browne and John Prine. Now she finds herself stuck on stage with a selection of Ireland's very much second-division singer-songwriters (Roesy, Mundy, Declan O'Rourke and Damien Dempsey), a comic actor (Jon Kenny) who cannot sing and the figure who blighted The Diamond Mountains Sessions, the 'singing' fiddler Dessie O'Halloran. Those who've never 'enjoyed' the pleasure of Dessie's vocals should imagine the sound of a corncrake being strangled by a bat.
<![if !supportEmptyParas]> <![endif]>
Limerick's Dolan's (let's give it the proper apostrophe, ignored in the title) is not a large venue and the stage is crammed with a three-piece rock band at the rear which in combination with a keyboards player who frequently waves his left hand around (but never seems to use it), two fiddlers, a guitarist, a saxophonist, and a banjo-cum-mandolin-player provides the 'big band'. In front of this the tiny Shannon perches on a stool, whipping up a storm for an audience which seems to consist entirely of Dunne's Stores sales assistants on an exuberant night out.
<![if !supportEmptyParas]> <![endif]>
There's neither subtlety nor ingenuity present. Tunes from Sharon's extensive back catalogue are delivered parrot-fashion with little variation as if Shannon has become a kind of wind-up doll who, once sprung, can deliver tunes such as Cavan Potholes or The Mouth of the Tobique with utter mechanical accuracy.  The DVD also includes a number of interviews whose banality renders them utterly redundant.
<![if !supportEmptyParas]> <![endif]>
After viewing this DVD the opportunity to watch paint dry suddenly became available. I took it and remain fully enriched by that experience.
<![if !supportEmptyParas]> <![endif]>
---
<![if !supportEmptyParas]> <![endif]>
This review by Geoff Wallis was written for Songlines magazine – www.songlines.co.uk.
<![if !supportEmptyParas]> <![endif]>
---
<![if !supportEmptyParas]> <![endif]>
<![if !supportEmptyParas]> <![endif]>
<![if !supportEmptyParas]> <![endif]>