Séamus Tansey
King of the Concert Flute Remastered
Sound Records SUN CD49; 36 min; 2004
Originally released on Finbarr Dwyer's Silver Hill label in the 1970s this is the first of Séamus's vinyl recordings to be reissued and in remastered format too, courtesy of Enniskillen's Mid-Atlantic Studio and Sligo's Sound Records. That being said, and before we move on to the music itself, the release is a typically penny-pinching Sound Records product. The liner insert consists of a mere four pages, two of which are devoted to a young and side-burned Séamus playing his flute while leaning against a dry-stone wall. The brief notes only refer to the presence of his accompanist, Charlie Lennon on piano, name-check the manufacturer of said flute and praise its practitioner without mentioning anything about the provenance (or even date of the recordings). The tray liner repeats the original vinyl LP sleeve's errors ('Andy McCann's' and 'Major Harrison's Feodora' for heck's sake and one of the tracks is listed as being 2.74 minutes in length) and, let's face it €20 is a ridiculous sum to pay for a 36-minute album, except that...
<![if !supportEmptyParas]> <![endif]>
<![if !vml]>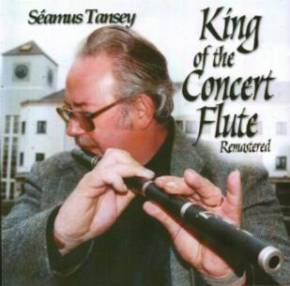 <![endif]>... except that this is one of the best flute albums ever recorded and fully endorses my own (and many others' view) that Tansey, when he's not off with the seagulls spouting atavistic nonsense or using his flute as a conversational exclamation mark or writing offensive letters to accordionists from Killorglin, is one of the best damned flute players of the last fifty years.
<![if !supportEmptyParas]> <![endif]>
Typically, King of the Concert Flute's twelve tracks almost entirely consist of reels and jigs. Indeed a cursory glance at his other releases proves that the hornpipe is not exactly a major element in his repertoire.
<![if !supportEmptyParas]> <![endif]>
The two exceptions are The Lament for the Battle of Aughrim and The Dear Irish Boy which once again prove that Séamus remains one of the masters of air playing, his lyrical eloquence sustained by beautiful control and tempered by flourishes of ornamentation which never detract from the melody.
<![if !supportEmptyParas]> <![endif]>
Charlie Lennon's accompaniment on both airs is thoroughly sparse and utterly fitting and throughout the album he fulfils the backing role in exemplary fashion. On jigs such as Michael Coleman's and Up Sligo his bouncy chords reinforce the rolling rhythmic quality of Séamus's flute while the pair provide the ultimate rendition of Martin Wynne's No. 1 and No. 2 reels, a spirited, but ever measured tour de force.
<![if !supportEmptyParas]> <![endif]>
That being said, there is the occasional dissonance (as on The Gold Ring), but King of the Concert Flute demands to be heard for its merits and not ignored by young musicians who have come to dismiss Tansey because of his personal reputation.
<![if !supportEmptyParas]> <![endif]>
Geoff Wallis
<![if !supportEmptyParas]> <![endif]>
19th March, 2005
<![if !supportEmptyParas]> <![endif]>
---