<![if !supportEmptyParas]> <![endif]>
Jim McGrath
<![if !supportEmptyParas]> <![endif]>
Melodious Accord
<![if !supportEmptyParas]> <![endif]>
Own label; no catalogue number; 53 minutes; 2004
<![if !supportEmptyParas]> <![endif]>
Melodious Accord is a collection of self-penned tunes from the hands of Jim McGrath, a button accordionist from Cullen, near Monea in County Fermanagh. Jim's playing will already be familiar to those who have purchased the Hidden Fermanagh CDs and his other recording credits include Erne (with Cathal Hayden, Gerry O'Donnell and Tommy O'Sullivan) and Pure Irish Drops: Sounds from the North (with Cathal again and Desi Wilkinson). <![if !vml]>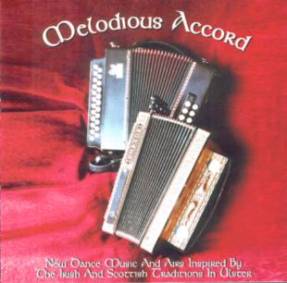 <![endif]>
<![if !supportEmptyParas]> <![endif]>
Jim's own album is, of course, not the first to be entirely devoted to self-composed melodies. Previous such examples have included Vincent Broderick's The Turoe Stone, Josephine Keegan's Lifeswork and Marcus Hernon's The Grouse in the Heather (which in itself was an oddity since all the tunes included the name of a bird in the title). Yet, in one sense, Melodious Accord is a more ambitious project since Jim not only includes his own reels and jigs (both fast and slow), but slides, hornpipes, flings, waltzes, barn dances, a strathspey, a slow air,  'a piece in the style of a Breton march' and, that modern rarity, a foxtrot (which pays tribute to one of his musical mentors, Mick Hoy). Add to that brew the fact that one reel (Bouncing Bellows) has a deliberate Cajun spring, a distinctively old-time feel elsewhere (that foxtrot for starters) and the very obvious influence of Jimmy Shand (even down to the accordion's tone on The Two Lovers Waltz) and Melodious Accord becomes a captivating collection.
<![if !supportEmptyParas]> <![endif]>
The true test of such new compositions, however, is whether they will be adopted by other musicians. Some, such as the slow jigs Autumn's Golden Shades and The Prince of Distillers (both featuring imaginative use of the snare drum by Ian Marshall) are simply too gorgeous not to be picked up by others, while the waltzes Sunset on the Erne and Memories of Bielefeld already feature in others' repertoires (perhaps thanks to their previous appearance on the Erne CD). Jim is so grounded in the tradition and his compositions so typical of their tune type, yet equally so imaginative, that I would wager that several will become widely known over the next few years.
<![if !supportEmptyParas]> <![endif]>
It certainly helps too that there is an innate delicacy and sensitivity apparent in the arrangements and that the other musicians involved are of high calibre too. These include Séamus Quinn on piano and fiddle, Séamus O'Kane and Jim's young son Seán on bodhrán and Robert Watt playing the Scottish pipes. Jim's regular musical sparring partner, Charlie Woods, appears on fiddle, alongside Cathal Hayden and Pat McManus, as well as Gerry O'Donnell on flute. Both guitar accompanists (McManus and Ian Smith) and James Blennerhasset very much allow the melody instruments to take their rightful place at the forefront. Of this there is no better example than the sparkling set of slides Slithering, Sliding and Generally Colliding.
<![if !supportEmptyParas]> <![endif]>
Brief liner notes explain the inspiration behind the tunes and usually their titles too. Some are named directly after local landmarks (Correl Glen and Monea Castle). Others celebrate local people such as The Boys of Bellanaleck (the McConnell brothers) or The Prince of Distillers (one revered local poteen maker) while others demonstrate Jim's love of playing for set dancers (House to Finish):
<![if !supportEmptyParas]> <![endif]>
Musicians who play for set dancing know that each figure in a particular set consists of so many bars of music. So it looks more professional if musicians and dancers can finish in time together. Sometimes the musician can lost count and overshoot the runway so it is safer to ask the caller or dance tutor to give the call 'House to Finish'.
<![if !supportEmptyParas]> <![endif]>
12th October, 2004
---
This review by Geoff Wallis was originally written for Musical Traditions magazine – www.mustrad.org.uk.
The CD can be purchased online at www.jimmcgrathmusic.com.
<![if !supportEmptyParas]> <![endif]>
---
<![if !supportEmptyParas]> <![endif]>
<![if !supportEmptyParas]> <![endif]>