North Cregg
<![if !supportEmptyParas]> <![endif]>
... And They Danced All Night
<![if !supportEmptyParas]> <![endif]>
Magnetic Music MMRCD 1026; 48 minutes; 1999
mi.da:za
<![if !supportEmptyParas]> <![endif]>
Magnetic Music MMRCD 1032; 51 minutes; 2001
<![if !supportEmptyParas]> <![endif]>
Summer at My Feet
<![if !supportEmptyParas]> <![endif]>
Greentrax CDTRAX250; 46 minutes; 2003
<![if !supportEmptyParas]> <![endif]>
---
<![if !supportEmptyParas]> <![endif]>
In the worlds of both rock and traditional music there's been many a band which has chosen to call itself after a local place name. Think of those American rock monsters such as Kansas, Boston or Chicago while Ireland's traditional groups adopting similar principles have included Altan, Fisherstreet, Moher and Dorsa. It's doubtful, however, whether any band has adopted the name of a place so inconsiderable as the County Cork townland of North Cregg (although it's unlikely that bohola has increased tourism in Mayo!). In part, that might explain the reason why, when contemporary groups are discussed by traditional music aficionados, North Cregg rarely gets a mention. However, there's another, far more plausible theory related to the distributional failings of their former record company, Magnetic Music, a fault exacerbated by the label's failure to build on the enthusiastic response received by the band on its more than several appearances at major UK music festivals.  <![if !vml]>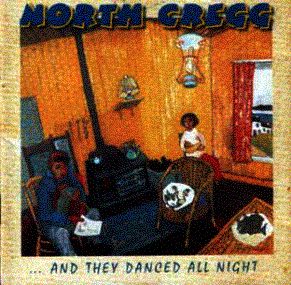 <![endif]> 
<![if !supportEmptyParas]> <![endif]>
North Cregg emerged in the mid-1990s, one of the latest in a long-line of traditional bands to appear from Cork's lively music scene which has included Na Filí, Any Old Time, Nomos, Calico and the superb bluegrass group Two Time Polka. Like several of its predecessors, the band included past or then present students at University College Cork, in this case the pianist Ciarán Coughlan and the fiddler Caoimhín Vallely, a member of the prominent Armagh musical dynasty. The other three regular members were button accordionist Christy Leahy, guitarist and singer John Neville and the snare drummer and percussionist Martin Leahy. It was the combination of Coughlan's swing-influenced piano and the rhythmic pulse of snare and guitar which drove North Cregg's music and, on ...And They Danced All Night, the band was augmented by banjo player Paul Meehan, as well as the electric guitar of Liam Murphy and even more keyboards supplied by Niall Vallely.
<![if !supportEmptyParas]> <![endif]>
The tunes aired on the album reflected the band's mixture of origins with a variety of polkas drawn from Sliabh Luachra as well as Cork's adopted son, Séamus Creagh, alongside tunes learnt from Connie O'Connell, Aidan Coffey and Padraig Kelleher. Other tunes were sourced from Ed Reavy, Mike McGoldrick (learnt during Meehan's time in Manchester) and the Scottish small piper Hamish Moore. Added to these were a selection of five fine songs, including four composed by John Neville, the best of which is unquestionably his account of a childhood and marriage blighted by a father/husband's alcoholism, The Wobbling Man.
<![if !supportEmptyParas]> <![endif]>
<![if !vml]>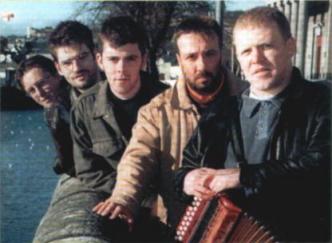 <![endif]>(Opposite – Left to right: Ciarán Coughlan, Caoimhín Vallely, Martin Leahy, John Neville and Christy Leahy.)
<![if !supportEmptyParas]> <![endif]>
Taken by the side of the River Lea, the photograph that appeared on the rear of the album's liner probably deserves an award as the publicity shot most often employed by the designers of Irish Music magazine. It continues to be used to this day despite various line-up changes.
<![if !supportEmptyParas]> <![endif]>
The first of these changes saw Paul Meehan becoming a regular member of North Cregg (and adding further skills on mandolin and bouzouki) in time for certainly the oddest titled album in the history of Ireland's traditional music, mi.da:za. The album's notes attempt an explanation:
<![if !supportEmptyParas]> <![endif]>
Me daza – a mysterious response popular with certain Cork people that defies definitive explanation, but always seems to be used in a most emphatic positive manner. We hope this bold and unusual choice serves as some reflection of the spirit of the music presented here.
<![if !supportEmptyParas]> <![endif]>
Now it's sometimes derisorily remarked that the rest of Ireland reckons that a different language is spoken in Cork (see the Jimmy Crowley compilation Sex, Sca & Sedition for some stunning examples of local argot), but the explanation above leaves this review none the wiser regarding the meaning of the album's title.
<![if !supportEmptyParas]> <![endif]>
Whatever the case, the good-time spirit which imbued its predecessor continued to inhabit mi.da:za. Indeed, at times, thanks to the addition of the Breton clarinet player Bernard Subert on tunes like Reel du Boulanger the band almost resembles At the Racket (almost, but not quite).
<![if !supportEmptyParas]> <![endif]>
<![if !vml]>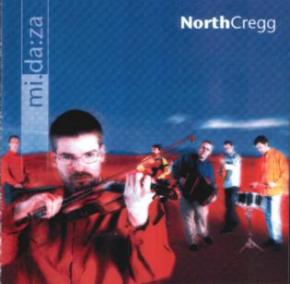 <![endif]>Subert's appearance clearly added another dimension to this second album (as does, in several places, the double bass of Chris McCarthy), but, in many ways, the dominant figure is accordionist Christy Leahy. The focal point of many a set of tunes, Christy comes strongly to the fore on The F.T. Set ­– three slides – which for the most part are played solo and its his melodic lead in combination with Caomhín's fiddle and Paul's banjo which characterises much of mi.da:za.
<![if !supportEmptyParas]> <![endif]>
Meanwhile, there's a certain change of tack apparent in John Neville's choice of songs, drawing this time from the English guitarist Steve Tilston for Slip Jigs and Reels, the New Zealander Paul Metsers for Farewell to the Gold and the English ballad tradition for Lord Franklin. This time around his only self-composed song is the seafaring Young Jack Tanner, a lengthy tale concerning a cross-dressing female cabin "boy". Again, however, John's song choice neatly counterbalances the musicians' infectious playing on the instrumental tracks.
<![if !supportEmptyParas]> <![endif]>
That, however, was to be the singer's last appearance on a North Cregg release for, on the latest album, Summer at My Feet, the vocalist is the very different Fiona Kelleher. Now it might just be pure coincidence that both Danú and North Cregg have recently acquired women singers, but the upshot in both cases has been a marked change of direction. In North Cregg's case this has also been reinforced by their change to a new label, the Scotland-based Greentrax (thankfully one with a better distribution set-up) and the acquisition of a new producer in the form of Capercaillie's Donald Shaw – the previous two albums had been produced by Niall Vallely (working with Frank Torpey as co-producer on ...And They Danced All Night).
<![if !supportEmptyParas]> <![endif]>
<![if !vml]>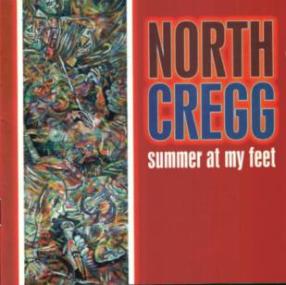 <![endif]>Certainly, Summer at My Feet reveals not so much a blunter edge as a softer focus. Some of this is certainly characteristic of Donald Shaw's other production work, but it is not just Fiona's singing that gives the album a gentler feel, but the instrumental playing too.
<![if !supportEmptyParas]> <![endif]>
Indeed, Fiona's soft, high tones are at times reminiscent of Mairéad Ní Mhaonaigh (especially on There Was a Maid in Her Father's Garden), but that gentle touch also seems to imbue Christy Leahy's playing, particularly on the very relaxed set of polkas which includes Callaghan's and The Glen Cottage. Equally, a set of slides kicked off by The Kishkean Lasses has less of a bounce than might have been apparent on the band's previous albums. Then there's an exceptionally jazzy rendition of Cooley's Hornpipe from Ciarán's piano where the only accompaniment is provided by Martin's brushwork on the snare drum, though the pace and rhythm pick up intensity by the time the pair reach Mairtín O'Connor's Flying Clog and they're truly airborne when the rest of the band join company for The Lass of Ballintra.
<![if !supportEmptyParas]> <![endif]>
Another major difference, of course, is reflected by the loss of John Neville's writing skills, but North Cregg has more than compensated by employing the skills of another Cork city songsmith, Ger Wolfe, who supplies both the title track and Swallow Song. Fiona's other two outings (apart from the one mentioned in the previous paragraph) are the traditional The Recruited Collier and Deoindí, an atmospheric Irish-language children's song, delivered here with solo verve.
<![if !supportEmptyParas]> <![endif]>
<![if !vml]>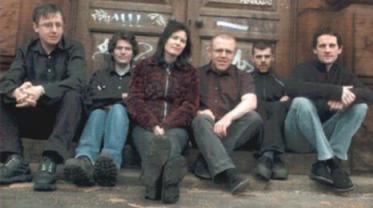 <![endif]>(Opposite – left to right: Ciarán Coughlan, Caoimhín Vallely, Fiona Kelleher, Christy Leahy, Martin Leahy and Paul Meehan.)
<![if !supportEmptyParas]> <![endif]>
Summer at My Feet concludes with Fred Finn's Polka, described by the band as "an unusual polka" and made all the more so by the addition of a very ragtime sounding piano and bluegrass mandolin. Indeed, the whole track sounds perhaps a little too close to Two Time Polka for comfort!
<![if !supportEmptyParas]> <![endif]>
Nevertheless, unlike its predecessors, both of which packed an immediate impact, Summer at My Feet is one of those albums which critics sometimes term "a grower", meaning that one's enjoyment is fertilized by repeated playing and the discovery of previously unidentified elements, making the album a very worthwhile future investment.
<![if !supportEmptyParas]> <![endif]>
---
<![if !supportEmptyParas]> <![endif]>
This is an original piece by Geoff Wallis
<![if !supportEmptyParas]> <![endif]>
More information about the band can be found at www.northcregg.com/ while the websites of Magnetic Music and Greentrax are www.magnetic-music.com/ and www.greentrax.com/ respectively.
<![if !supportEmptyParas]> <![endif]>
---
<![if !supportEmptyParas]> <![endif]>
<![if !supportEmptyParas]> <![endif]>