Eddie Butcher
<![if !supportEmptyParas]> <![endif]>
Adam in Paradise
<![if !supportEmptyParas]> <![endif]>
Ulster Folk & Transport Museum/Irish Traditional Music Archive UFTM-ITMA 101; 14 minutes; 2005
<![if !supportEmptyParas]> <![endif]>
Some have already questioned the release of Adam in Paradise (see the review at www.mustrad.org.uk), complaining about its price. There is no doubting that £12 or €13 (depending on whether you purchase this from UFTM or ITMA) might seem steep for a disc whose length is equivalent to a CD single, but vital qualifications must be made in relation to this release, issued to commemorate the twenty-fifth anniversary of the singer's death.
<![if !supportEmptyParas]> <![endif]>
<![if !vml]>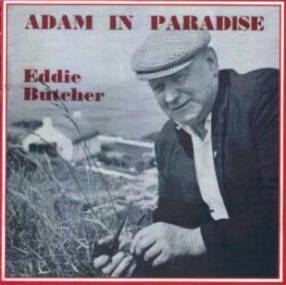 <![endif]>Firstly, though the UFTM is in part a commercial organisation, its entrance fees go towards the enormous cost of maintaining its vast collection (and the music section, run by piper Robbie Hannan, is very low down the pecking order). ITMA's income is almost entirely dependent upon grants. In both cases, purchasing this CD contributes to the vital work in terms of music preservation conducted by both organisations.
<![if !supportEmptyParas]> <![endif]>
Next, this is very much a limited release and, accordingly, costs per unit are far higher than, for instance, a CD single by Westlife or Samantha Mumba.
<![if !supportEmptyParas]> <![endif]>
Thirdly, and unlike a run-of-the-mill CD single, the disc is accompanied by a 16-page booklet containing Hugh Shields's original notes for the Ulster Folk Museum's 7" vinyl EP release, consisting of the complete lyrics and details regarding the sources of both the songs and their airs, as well as adding a later photograph captured of the singer in full flight during a later session in Drogheda (see below).
<![if !supportEmptyParas]> <![endif]>
Lastly, apart from a few tracks on Topic's Voice of the People series, none of Eddie's commercial recordings are currently available and it's highly unlikely that they ever will be as they were recorded for the Leader, Free Reed and Outlet labels. You'd need to keep a close watch on eBay to track down any of these albums. More importantly, Eddie was a vital figure in the continuation of the Irish song tradition. If the likes of Hugh Shields, Len Graham, Andy Irvine and many others had not trekked to his door, then many songs would undoubtedly have disappeared when he died.
<![if !supportEmptyParas]> <![endif]>
However, any quibbles regarding cost pale into insignificance when listening to Eddie sing these 'Four Songs on Courtship from the Ulster Tradition', as both this and the original release were subtitled. He was in his mid-sixties at the time of the recording and must have enjoyed the trip down from Magilligan on the Derry coast to the studio in Dublin since there's no indication of fatigue or over-familiarity with his material.
<![if !supportEmptyParas]> <![endif]>
<![if !vml]>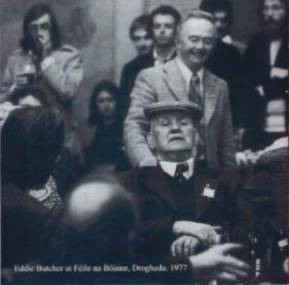 <![endif]>The opening track is probably the most familiar, The Inniskilling Dragoon, though even at 3:26 it's a truncated version , as Eddie includes a third and closing verse described by Hugh Shields as 'not a customary one'.  The subsequent I Long for to Get Married is much shorter, but fully encapsulates the reason so many headed to Eddie's door. Its rhythm is bouncy, its sentiments clearly expressed, views which equally apply to the jaunty Adam in Paradise, which Shields rightly describes in comparison to other songs about the Garden of Eden as being nonpareil in catching 'so well the mood of innocence before temptation'.
<![if !supportEmptyParas]> <![endif]>
Finally comes Eddie's crowning glory, The Cocks are Crowing – seven minutes of sheer splendour which fully captures the sheer resonance of his voice and judicious phrasing, ever emphatic and equally restrained in all the right places. If there is a finer rendition of the song available anywhere then this reviewer would be pleased to acquire the details.
<![if !supportEmptyParas]> <![endif]>
According to the liner booklet, Hugh Shields has donated his collection of recordings of Eddie and other Irish singers to ITMA and the UFTM. One resolutely hopes that these will become publicly available via other CD releases.
<![if !supportEmptyParas]> <![endif]>
Geoff Wallis
<![if !supportEmptyParas]> <![endif]>
20th February, 2006
<![if !supportEmptyParas]> <![endif]>
---
<![if !supportEmptyParas]> <![endif]>
For more details about this CD visit the sites run by ITMA or the Ulster Folk and Transport Museum.
<![if !supportEmptyParas]> <![endif]>
---
<![if !supportEmptyParas]> <![endif]>